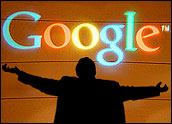 In its continuing bid to become the one-stop information company for the world, Google announced this week at its I/O conference that it will launch Google TV in the fall of 2010.
In partnership with Sony, Intel and Logitech, the Internet giant will market televisions, Blu-ray players and set-top boxes with an array of software functions designed to let users search for and play videos, along with TV shows and movies, directly on their big screens.
Google TV will also come with a fully functional version of the Google Chrome browser, allowing consumers to browse the Internet through their televisions.
This may be where the company is marketing to a nonexistent demand, according to Carl Howe, a director with the Yankee Group.
"It's yet to be proven that consumers actually want to browse the Web on their TVs," Howe told the E-Commerce Times. "It's really not the right mode for that device."
What's New?
With its edge in the search engine realm, Google is leading with the fact that combined search will allow Google TV users to find TV shows on channels to which they already subscribe or through Internet video sources such as Hulu and YouTube or direct-from-network offerings. This does address a constant complaint of those wanting to access the rapidly expanding sources of video content on the Web. This aggregation, though, is not new, noted Howe.
Apple has its own proprietary box in the form of Apple TV. While it may be limited to iTunes TV episodes and movies, it is a product already on the market, explained Howe, and that gives it an edge.
Although Google has promised availability of Google TV in time for the 2010 holiday season, retailers are making their stocking plans now, he stressed, and they are hard-pressed to make room for a product that doesn't yet exist.
Competitors or Collaborators?
Perhaps the most exiting aspect of the new offering is that it will be based on Android and Google will invite third-party developers to create apps for Google TV. That makes other media content providers and the software makers working on providing access to them potential collaborators rather than competitors, an angle that Apple has not tried.
One such potential collaborator is Boxee, maker of media content aggregation software and set-top boxes of its own. Avner Ronen, CEO of Boxee, posted Thursday to his Twitter feed that the company "should start working on [a] Boxee Android App" for the device.
"We think that it would be great to see an open OS such as Android gain market share in the living room," Boxee Vice President of Marketing Andrew Klippen told the E-Commerce Times.
Boxee is, in fact, planning to build that Android-based app, he added.
However, Klippen also questioned whether that fully functional browser will in fact see use.
"We have somewhat of a different view of browsing the Web on TV," he explained. "While it was a big part of the Google demo, we believe browsing the Web as-is makes more sense on laptops and mobile devices, due to their personal nature, the screen size, and the input device."
Opening the Door
For its part, Google seems to be inviting such collaborations; it plans to release the specs and APIs soon after the launch of Google TVso that developers can build and distribute applications through its Android Market.
Strategic alliances are in the works, said Google, with companies such as Jinni.com and Rovi. Jinni.com will contribute social features to the Google software, and Rovi is known for its television guide software.
Google TV will be available at Best Buy stores nationwide in the fall, according to Google.