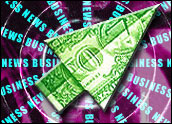 As expected, sales of mobile devices are up considerably from last year, showing an increase of nearly 14 percent worldwide over the second quarter of 2009. That's according to a report released by Gartner, and the results fall closely in line with other reports out from firms such as Forrester Research and iSuppli.
However, the margins that manufacturers are making on sales of those phones fell more than expected, according to Carolina Milanesi, vice president with Gartner and author of the report.
Margins are under a great deal of pressure due to currency depreciation and intensive competition, Milanesi told the E-Commerce Times.
Manufacturers such as LG and Samsung did indeed gain market share, but their approach to pursue the low-margin sales proved risky, she noted.
Safety in Numbers
Despite the lack of headline-grabbing launches or hype surrounding its operating system updates, Nokia continues to dominate the worldwide mobile market, commanding a market share in device sales of over 34 percent in the second quarter, according to Gartner.
Samsung, LG, Research In Motion, and Sony round out the top five. Motorola has fallen to the sixth spot, with a total market share of just under 3 percent. HTC, new to the market and a strong player in the smartphone arena, debuts at No. 8.
The overwhelming domination of Nokia ensures that its mobile operating system, Symbian, will continue to be the predominant mobile platform in the world through 2015, Alex Spektor, analyst with Strategy Analytics, told the E-Commerce Times.
However, Nokia has not been successful in capitalizing on its installed base in terms of reputation or prominence in the smartphone market, he noted. Thus, Android and Apple's iOS are likely to continue to gain market share.
Smartphones Gaining Fast
In fact, smartphones are by far the fastest-growing segment in the mobile device market, with Gartner recording a growth rate in sales of just over 50 percent for smartphones in the second quarter of this year compared to last.
Nokia's Symbian and Research In Motion, with its BlackBerry line, continue to be the first and second fastest-selling of those operating systems; however, Android has jumped to No. 3, with a 17.2 percent share of the market, according to Gartner. That's three points over Apple's iOS, at 14.2 percent.
The impressive growth rate for Android is due to three factors, Milanesi told the E-Commerce times: 1) vendor support and strong product rollouts; 2) carrier marketing spending; and 3) fast development of the OS itself.
Android will hit the No. 2 spot by the end of the year, predicted Milanesi, in a market environment that will see a 40 percent growth rate on sales of smartphones overall.
Thus, Android's highly publicized jump on Apple looks poised to continue. That said, Android is an operating system not nearly so closely aligned with a mobile handset manufacturer as its competitors.
To power those data-hungry smartphones, whether powered by Android, iOS, Symbian, or Research In Motion, Gartner predicts that mobile service providers will increasingly offer tiered data plans to users, as AT&T has done, and as Verizon is rumored to be on the verge of doing.
Such tiered plans will make smartphones more accessible to different market segments, the research firm said. Barrier to entry will be lowered, as will the total cost of ownership of smartphones.
Operating systems updates will buoy the growth in smartphone sales for the rest of this year, predicted Milanesi. However, the market will consolidate around a few operating system providers that have strong brand awareness and that can garner enterprise customers.