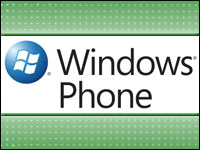 With the launch of the new Windows Phone 7 operating system and the devices that run it less than a week away, another mobile carrier has been added to the mix.
It has been known for some time that AT&T will carry WinPho7 devices at its Oct. 11 launch. Now it appears that T-Mobile also will announce a device — made by HTC — that runs the new platform.
For several years, Apple's exclusive deal with AT&T to carry the iPhone in the U.S. has spawned speculation about how much or how little its adoption was affected by the limited distribution.
Now, that speculation is likely to start anew, since Microsoft has chosen to expand its reach to another major mobile carrier.Will another distribution channel affect the ultimate success of the WinPho7 units?
"I assume we'll hear from all corners on both sides of the argument," Josh Martin, senior analyst with Strategy Analytics, told the E-Commerce Times.
Cool New Phones
Ultimately, though, carrier distribution is not the most — or even most important — factor adopting smartphone adoption.
Strong product rollouts are essential, according to Carolina Milanesi, a vice president with Gartner.
What the carriers spend on marketing new devices ties directly to how fast new handsets come out of the gate, she told the E-Commerce Times. Thus, the pressure is on Microsoft and its carrier partners to hit the ground running.
That running start will depend to great extent on the success of the suite of applications available for the operating system.
It's All in the Apps
"I've been impressed with Microsoft's efforts to woo developers so they will have a robust app store when the phone launches," noted Strategy Analytics' Martin.
In addition, Microsoft seems to have developed relationships with a "nice mix of big brands, such as Netflix, in addition to working with smaller, lesser known apps as well, he said.
What the Microsoft mobile platform lacks so far, according to Martin, is "apps that really identify or shape the platform."
There's nothing in the mix so far that differentiates the phone so that Microsoft or its carrier partners can point to it as a reason to buy this phone over another, he noted. The future of the operating system will depend on the development and promotion of those types of apps.
What Would Success Look Like?
Smartphones are by far the fastest-growing of the mobile device market segments. Sales jumped by more than 50 percent in the second quarter of this year, according to a recent Gartner study, compared with the same quarter last year.
Globally, the Symbian operating platform (Nokia) continues to lead that segment, with RIM's BlackBerry in second place. Android, however, took over the No. 3 spot, overtaking Apple's iPhone. Microsoft's Windows Mobile platform is currently in fifth place worldwide.