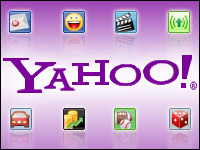 AOL is considering a play to take over Yahoo, according to a report in The Wall Street Journal.
The deal is being discussed among AOL and a number of private equity firms, including the Blackstone Group, unnamed sources told the paper.
Yahoo shares soared this week on the rumored possibilities; they were at one point up by almost 13 percent.
Ancient Internet History
Long before a couple of college kids made "google" synonymous with "search," there was Yahoo. One of its early portal peers was AOL, the ISP that introduced mainstream Americans to the Internet.
With Google now dominating search, and with Facebook and Twitter altering the very structure of the Web, Yahoo and AOL are grasping for relevance.
As with all reports attributed to unnamed sources, the rumor that they may join forces to find it may or may not have legs. Perhaps a better question, though, is whether or not such a deal is even plausible.
Weaknesses to Exploit
The first important fact is that Google does have some soft spots. One of them is its bump-ridden foray into social networking. With the rise of popularity of services such as Facebook and Twitter, all companies offering Web services are clamoring to make their tools social.
Google is no exception. However, the launch of Google Buzz earlier this year was filled with customer outrage and privacy problems.
Unlike Facebook, which became firmly established in the social networking realm before privacy concerns reached critical mass, Google could ill afford to make such mistakes so early in the game, Jennifer Golbeck, assistant professor of information studies at the University of Maryland, told the E-Commerce Times.
Once such trust is compromised, it's very hard to recover, she noted.
The Acquisition Imperative
Perhaps even more crucial is the fact that companies in the Internet realm no longer have time to grow organically, Laura DiDio, principal analyst with ITIC, told the E-Commerce Times.
"If you're going to compete head-on and be a top player in a chosen market like this one," she said of the rumored AOL/Yahoo deal, a company must acquire both expertise and market share.
These acquisitions can make unlikely pairings, she added.
"As each of these companies keeps trying to expand," DiDio explained, "they'll go into both competitors' and even non-traditional rivals' territories."
This could explain why such a seemingly unpromising deal — like one between two struggling firms from an earlier Internet heyday — might be a logical choice.
Advantage AOL?
Whether or not AOL and Yahoo pair up, and whether or not that deal comes as a hostile takeover — as with the 2008 attempt by Microsoft to acquire Yahoo — makes perhaps less difference than timing, DiDio stressed.
When the time is ripe for mergers and acquisitions, there's a short window, she noted. "If you wait six months, things could change, and you could be out of the game."
The search market is defined by Google and "everybody else chasing them," said DiDio.
A possible merger of AOL and Yahoo could mean that both companies survive for some time longer — "but can they thrive as a Lilliputian in the land of giants?" she wondered.
At this point, it may be to AOL's advantage to buy the previously dominant search firm, DiDio concluded, "if only for AOL to take out a competitor."