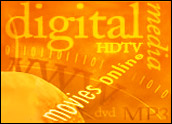 More capable, feature-rich smartphones are finding their ways into more consumers' pockets, and for TV broadcasters, this means everyone's carrying a potential television set with them everywhere they go. It's an opportunity many are latching onto — local broadcasters are working to bring mobile digital television to mobile devices.
"Nine broadcasters in the Washington, D.C., market have signed on the air with mobile digital television," Dave Arland, spokesperson for the Open Mobile Video Coalition, told the E-Commerce Times. "Broadcasters in several other markets have begun to transmit in the new format."
Meanwhile, a mobile digital TV standard optimized for viewing on small screens has been approved, IBM is offering a digital media platform, and Netflix is adopting content protection for streaming video.
Local broadcasters are hoping they can break into the burgeoning mobile ad market with mobile digital TV. However, it's not clear how rapidly demand for TV on mobile devices will pick up.
Going to the Web
Right now, online TV is the trend local broadcasters are worried about. Consumers are inching toward watching television programs online instead of over cable networks, according to a survey conducted by Retrevo recently.
Youth dominated — 23 percent of the respondents under 25 and 8 percent of those over 25 who responded to the survey watch most of their TV programming online. Further, 15 percent of the respondents said higher cable and satellite prices would make them watch all their TV shows online, and 26 percent of respondents have canceled, or considered canceling, their cable or satellite service.
However, 57 percent of the respondents said they would stick to their cable or satellite services.
"Will people move towards online video consumption? Yes, without a doubt," Ben Piper, director of multiplay market dynamics at Strategy Analytics, told the E-Commerce Times. "Will it be at the expense of traditional managed pay TV services? Probably not in the near term," he added.
"People will increasingly leverage the convenience of the Internet to bring premium content with them on the go, but they will still primarily be interested in watching content on their TVs," Jan Steenkamp, vice president of the Americas at Irdeto, told the E-Commerce Times. "I think it will be some time before we see consumers completely abandon their TVs."
I Want My MTV
Perhaps the move toward digital mobile TV is even farther away.
"Mobile TV as it currently exists is an anachronism," contends Josh Martin, a senior analyst at Strategy Analytics. That's because mobile TV services simply broadcast content.
This is an outdated approach, Martin pointed out.
"Consumers want bits of relevant content when the opportunity affords," Martin explained. "They don't want to be spoon-fed something that's currently being broadcast simply because they have some down time."
Local Broadcasters Push for Mobile DTV
If consumers are moving so slowly toward online TV and mobile digital TV, why are local broadcasters concerned?
They are working to launch mobile TV services. So far, 45 local stations, including Detroit's WDIV and WXYZ, have begun mobile DTV broadcasts.
The Open Mobile Video Coalition (OMVC), an association of TV broadcasters pushing the development of mobile digital TV in the United States, will hold a consumer showcase in May in Washington, D.C.
This will demo TV broadcasts on various mobile devices, including the Tivizen from Valups. This is an accessory that lets owners receive local TV broadcasts on their iPads, iPhones, laptops or BlackBerries with WiFi features. Think of it as a router for your smartphone. It will be available on Amazon.com and eBay for US$149 in May.
Development of the Tivizen was partially funded by the OMVC, which has 27 members, including the Association of Public Television Stations, the corporation for Public Broadcasting, the Public Broadcasting Service and Fox Television Stations.
Perhaps local broadcasters are clambering onto the mobile DTV bandwagon because they fear being hammered by the Internet as the newspaper and recording industries were. "Forward-thinking service providers have largely embraced the Internet and have realized it is the content, not the network that ultimately matters to consumers," Strategy Analytics' Piper said.
Also, they are banking on the next generation of consumers. OMVC's Arland said a national online survey conducted by Magid Media Labs last fall indicated many young adults said their viewing of local and national news would double if they could watch TV on a device they could carry with them.
Other Technical Developments
Increasingly, consumers want to have their content ready to hand — a recent IBM study found that more than 40 percent of consumers want to share content between various devices. In response, IBM unveiled a new software platform, the IBM Media Enterprise Framework, in April. This will help content vendors develop, distribute and market content to a mobile, interconnected audience.
Meanwhile, Netflix has signed up Irdeto to provide content protection for the TV episodes and moves it streams out over the Internet.
Will consumers be able to watch digital TV on the relatively small screens of their smartphones? Yes, the OMVC's Arland told the E-Commerce Times. A new standard for digital mobile TV approved by the Advanced Television Systems Committee last October is optimized for small-screen viewing, he said.
"The signals look best on a screen from two to three inches in size to one about 10 inches," Arland explained. "That's roughly the size of a laptop or iPad screen."
However, OMVC's research shows that the biggest opportunity for mobile DTV may be in laptop and netbook computers. "Consumers say they would appreciate the flexibility and functionality of mobile DTV on a device they already own, like a laptop," Arland said.
All in Good Time
It might be quite awhile before mobile DTV becomes widespread. "For the time being, streaming local broadcast is more efficient on the Internet," Irdeto's Steenkamp said.
Right now, the Tivizen may be more of a novelty than a useful device, Strategy Analytics' Martin said. "It will hit the market with a thud," he predicted. "The cost of the hardware, the fact that it's an accessory, and the lack of on-demand content make it a non-compelling option."
Over time, though, things may change. "Eventually we'll reach the point where a person can start watching a soccer game on his TV in the living room then continue watching it on his mobile phone when he goes out shopping," Steenkamp said.