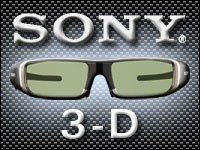 "Avatar" may be the box office champ in this or any other galaxy, and the first weekend of ticket sales for "Alice in Wonderland" has certainly put a Cheshire Cat smile on the faces of Walt Disney studio executives. However, all that monetary activity stems from watching those two movies in the plush, dark expanses of a special, 3-D-enabled movie theater.
Now shrink that unique viewing experience down to the comfort of your own living room, as Sony, Samsung and Panasonic are trying to do with this week's announcements of retail availability and pricing for their first-off-the-assembly-line 3-D television sets. Suddenly there's something else jumping out at me from the screen besides Pandora's creatures and Johnny Depp's Mad Hatter — a very big question: Where's the marketing dimension in all this?
How will three of the biggest names in consumer electronics convince any consumers — much less early adopters — that they'll need to spend yet more money for the next stage in home entertainment?
Pry Open Those Wallets
The questions likely to come out of the mouths of shoppers as they slowly circle 3-D TV sets in a Best Buy or other retail outlet — peripheral upgrades, costs for glasses, available content — may seem simpler than those focusing on recent HDTV queries: 720p vs. 1080p, HDMI outlets, 60mhz vs. 120mhz. But there will be much more at stake for consumers who may have just spent US$2,000 to $3,000 for a large-screen LCD.
The three companies are trying to clear up the picture as much as possible for those who have the money to be the first in their neighborhood to screen 3-D content — when it becomes available. Panasonic is expected to have a Wednesday event in New York launching its line of 3-D TVs, which should be on sale this week. However, Samsung and Sony tried to steal a little digital thunder with Tuesday announcements of prices and retail arrival dates.
Samsung gave up the most details, with nearly 20 3-D TVs and related products heading to stores soon. The Korean company is releasing 3-D-ready TVs in LCD, LED and plasma versions beginning in late March and continuing through May, along with 3-D Blu-ray players and home theater accessories.
Samsung, hoping to grab the early lead among consumers, is offering the widest range in prices so far; the cheapest is a $1,700 LCD set due in May, and the most expensive is a staggering 56-inch LED weighing in around $6,800. The company has also put together an incentive package to lure shoppers: a 3-D Blu-ray player, two free pairs of glasses and a 3-D copy of "Monsters vs Aliens."
For its part, Sony says to expect its first 3-D TVs in June and that the first 46-inch model will sell for $3,875. That includes two pairs of shutter glasses.
Where's the Content?
Hardware prices and shipping dates are one thing. The manufacturers also have to keep making the content deals to validate the cost of 3-D TVs to consumers, according to Scott Steinberg, analyst for technology consultants Tech Savvy Global. "They have to make a very compelling case as to why this technology is a must-have upgrade," Steinberg told the E-Commerce Times. "And if that technology speaks for itself, then they need to get it in as many people's hands as quickly as possible so it can reach critical mass."
As it stands now, if you're one of the first to race out and get a Samsung or Panasonic 3-D TV by the end of March, for the most part you'll be stuck in what may seem like 2-D hell with the rest of us.
"How many times can you watch 'Monsters vs. Aliens' or 'Cloudy With a Chance of Meatballs?'" Steinberg said. "What's the reality that somebody is going to upgrade prior to the launch of 3-D content networks? There's a limited range of programming, limited value proposition and it's being launched in the middle of the worst global economic crisis."
Those networks are on the way: ESPN promises to start a 3-D sports network in time for initial summer World Cup games, DirectTV has offerings forthcoming and the Sony/Imax/Discovery Channel partnership is shooting for a 2011 launch. Samsung gets first rights at 3-D upgrades of the "Shrek" movie series, but those won't be on shelves until just before Christmas.
Then again, the fact that 3-D TVs — not really on anybody's radar this time last year — will actually be in stores by the end of this week is a shot across the bow at all prospective content providers, said Mary Ann Odegaard, director of the retail management program at the University of Washington's Foster School of Business. "Announcing that they'll be selling these is a signal to the content makers to get busy," Odegaard told the E-Commerce Times. "If the equipment is not available, then what's the incentive to make the content?"
Bundles, Packages, Lures and Incentives
Sony, Samsung and Panasonic have commercials and advertising campaigns ready to go, but a marketing challenge of this magnitude (dimension?) may require something extra, said Steinberg. "Maybe a rebate program. 'Trade in your old hardware, let us buy it back." Perhaps some special programming is in order — Panasonic presents an hour of 'Dancing With The Stars' in 3-D, for example, or special screenings. "You have to make people talk about it."
Sony marketing executives were unavailable for comment, but Sony spokesperson Greg Belloni told the E-Commerce Times that the company will set up special 3-D demonstration sections in its 44 Sony Style stores across the U.S.
That would fit in with the advice Marcus Cunha, associate professor of marketing at UW's Foster School of Business, would give to the consumer electronics companies that want to convince media lovers to wear big glasses in their own living rooms. "It becomes less compatible with current TV viewing and harder to observe the benefit — to see the benefit of a flat screen TV, all you need to do is to walk by a store window," Cunha told the E-Commerce Times. "Also, is the relative advantage big enough to offset the inconveniences of this new TV concept? You couldn't get Oprah to use the product and get people to observe the advantage — they have to do this for themselves. Given these factors, 3-D TV has a greater hurdle to cross than did flat-screen TVs relative to tube TVs. Marketing should be focused on enhancing consumers' ability to observe, try and understand the true advantage of this new technology when it comes to adoption by a greater customer base."
Early adopters may hope it's to their advantage to announce to friends and family that they have a new 3-D home theater; their doorbells may soon be getting a workout. Odegaard remembers when TV sets first became available when growing up in Washington, D.C. "Once they managed to start getting into people's homes, my parents ended up buying one because they kept going over to other people's houses to watch theirs," she said.