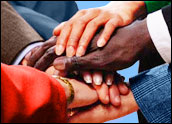 A newly formed international consortium has claimed it can be the glue that unites a fragmented mobile applications market. However, if the Wholesale Applications Community can't deliver on its promise of an open platform that will let developers write apps for all devices — save perhaps Apple's iPhone — then that "glue" could simply result in a stickier situation in the mobile space.
Twenty-four large telecommunications companies used the Mobile World Congress in Barcelona on Tuesday as the backdrop for their announcement. The impressive list of carriers and network providers includes AT&T, Verizon Wireless, Sprint, Orange, NTT DoCoMo, China Mobile, Deutsche Telekom, Telecom Italia, Vodafone and Wind. Also, major handset manufacturers LG, Samsung and Sony Ericsson have thrown their support behind the alliance, as has the GSMA, the organization dedicated to supporting the Global System for Mobile Telecommunications standard.
A key paragraph in the Community's press release highlights the alliance's lofty goal: "to create a wholesale applications ecosystem that — from day one — will establish a simple route to market for developers to deliver the latest innovative applications and services to the widest possible base of customers around the world. In the immediate future the alliance will seek to unite members' developer communities and create a single, harmonized point of entry to make it easy for developers to join," the statement reads.
"This approach is completely in line with the principles of the GSMA and in fact leverages the work we have already undertaken on open network APIs (OneAPI)," GSMA CEO Rob Conway said. "This is tremendously exciting news for our industry and will serve to catalyze the development of a range of innovative cross-device, cross-operator applications."
Easier Said Than Done?
Not to cast aspersions on the moral character of the companies involved, but think of the Wholesale Applications Community as the other organized crime families that took on the Corleones in The Godfather. Now replace "Corleones" with "Apple" and you have an idea of what the WAC's unstated goal is: dislodging the iPhone's current vise-like grip on the app market.
"All these companies typically don't get together. They're serious competitors with different interests," IDC analyst Al Hilwa told the E-Commerce Times. "'What unites them is the way Apple has created its App Store and created excitement around its App Store business. I'm not sure folks who are not that influential are creating that kind of excitement."
However, in an attempt to generate its own brand of enthusiasm among developers, the consortium could be layering in another level of complexity, Hilwa said. "There's already too many platforms, and the question for these guys is, are they really introducing a new one? Are they really fragmenting by attempting to defragment? This is a problem. We need some standards and some ways to put some order to the chaos of apps on mobile devices. But that's a Darwinian process, and I'm not sure that can be mandated by a consortium."
Making a developer's life simpler is a noble task, said Ramon Llamas, a senior research specialist at IDC. "Mobile apps are where it's at, but everybody's coming with their own approach on how to do it. Consumers have a lot of choices now, but the path to get there rests on the shoulders of developers."
The Big Obstacles
There are two good reasons for the chaos Hilwa and others see in the current mobile development process: technology and competition. Just within Google's Android OS, different handsets using different processors and user interfaces require different tweaks by app developers. Then there's the issue of getting different carriers selling those phones to provide over-the-air updates for those tweaks.
The WAC's press release pointed to the Open Mobile Terminal Platform forum and its BONDI interface/security standardization initiative, announced in 2008, as a starting point for its work. The group also wants to use Java Intermediate Language (JIL) in its framework. However, the diversity within the industry still poses substantial challenges.
"How do we get this to work on the different Samsung devices and LG devices?" Llamas asked. "You have the NV series and the Chocolate series and Samsung has the Omni and the new Bada. They're all different, and we're not just talking screen sizes and user interfaces. There are OTA updates, and day-to-day usage. These have to be ready to go from the moment they download," he said.
"There's such a wide variety of standards and devices and networks and technologies, and they all have to work together easily," independent analyst Jeff Kagan told the E-Commerce Times. "You're also going to have a lot of bosses. Who takes precedence when there are disagreements?"
That points to potential stumbling blocks regarding the escalating competition for customers within the mobile phone market. "Who's going to control the branding? As a carrier, if I'm AT&T, or if I'm Verizon, you can bet I'm going to want my own spin on it so you as a customer will select me," Llamas told the E-Commerce Times.