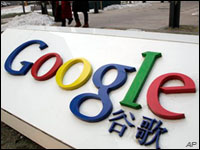 Three of the biggest names in the Internet industry are founding members of the Global Network Initiative, a consortium of companies, non-profits and academic groups formed in October 2008 to promote human rights and privacy around the world. However, now one of those companies, Google, finds itself going head-to-head with the Chinese government over issues regarding censorship of search data, while most other technology companies have remained on the sidelines as they wait to see how this economic and diplomatic standoff resolves itself in Beijing.
The other two founding members of GNI — Microsoft and Yahoo – have issued statements that take stands for freedom of expression in China without actually mentioning the current situation involving Google. Yet Microsoft gives no hint that it will change its strategy with the Chinese. As for Yahoo, it sold its Chinese business in 2005 to Alibaba, a Chinese firm, " and while maintaining a 39 percent investment in Alibaba, we no longer have operational control or day-to-day management over the Yahoo China business," Yahoo's Dana Lengkeek told the E-Commerce Times. Despite not having any say in those operations, " Yahoo is committed to protecting our users' rights to freedom of expression and privacy, and we are a cofounding member of the Global Network Initiative," Lengkeek said.
As of press time, only one other major technology firm has said it will follow Google's lead in taking on the Chinese, as Google did when it announced this week that it would no longer censor search data as requested by the Chinese government. Late Wednesday afternoon, domain registration company GoDaddy told a Congressional committee that it would no longer register Web sites in China because of government rules requiring what the company believes is too much personal information, including photographs.
Google's Stand and the Tech Industry
Microsoft is looking to the Global Network Initiative for guidance for how it can respect human rights while continuing to do business around the world, Redmond's Director of Public Affairs William Calarese told the E-Commerce Times. "We appreciate that different companies may make different decisions based on their own experiences and views," he said. "At Microsoft, we remain committed to advancing free expression through active engagement in over 100 countries, even as we comply with the laws in every country in which we operate. We have done business in China for more than 20 years, and we intend to continue our business there. We also regularly communicate with governments, including the Chinese, to advocate for free expression, transparency and the rule of law. We will continue to do so."
Engaging in global markets is important since an open and healthy Internet requires not only information access, but also network connectivity, computing power, software applications and IT skills, Calarese said. "We believe all technology companies should make public commitments to help protect Internet users."
Dell, which also does business in China, had no comment on Google's current situation regarding Beijing authorities, said Dell spokesperson Jess Blackburn. However, Blackburn did want to make it clear that the company is not leaving China, as was previously reported in blogosphere accounts citing comments in the Hindustan Times from India's prime minister Manmohan Singh following a meeting with Dell chairman Michael Dell.
Singh was quoted as saying that Dell would be moving its manufacturing to India, which is not true, Blackburn said. "We have no plans to shift our manufacturing components from there," he told the E-Commerce Times. "It was really a discussion using China as an example for an opportunity that India might realize on their own. [Micheal Dell] used that as an example of an opportunity that could be had by India if it was also able to become a hardware manufacturing hub, generating empoloyment to go along with its impressive economic growth."
The Risk for Google's Partners/Competitors
"I think all of these Internet companies actually benefit from a free speech-friendly environment. They won't profit very much from overly restrictive regulations and censorship," said Danny O'Brien, former international outreach coordinator for the Electronic Frontier Foundation. "It's a pain and a financial burden, and it decreases the usefulness of their product."
However, O'Brien added that he respects the internal debates that are likely going on inside the corner offices at major tech firms now doing business with China. Google's competitors may see an opening, yet it would involve making concessions mandated by a repressive government. "I think it really is a challenge for very large companies to take a stand like this — to cooperate with their competition and to come up with a coherent and consistent approach," he told the E-Commerce Times.
This may prompt Google to seek the advice of those Western companies that have been doing business with China — and facing related intellectual property and privacy issues — longer than the search giant has been dealing with Beijing, according to Rebecca Wetteman, vice president for research at Nucleus Research. This incident may also result in more ground rules for other companies going forward with China. "They need to have disclosure of what their information policies are in China, and that's going to become more and more important as more American companies go from having a casual relationship with China to needing more information about how they will be working there," Wetteman told the E-Commerce Times.