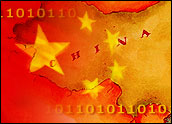 Two Monday technology stories, both involving China: Call them the yin and yang of that country's attempts to repair its image following Google's recent hacking allegations and the search giant's subsequent threats to end its business dealings in the country.
Chinese police are trumpeting their shutdown of a major hacker training Web site and three related arrests. However, on the same day, Google claimed that the logo of a copycat Web site based in China looks a little too much like its now-familiar brand and wants something done about it.
Police in the communist country say the Black Hawk Safety Net site was the largest hacker-centric site of its kind in the country. It offered paid lessons on how to stage network attacks, along with sales of malware. Media reports say the site was responsible for more than 7 milllion yuan (US$1.03 million) in membership fees.
The news came as Google China issued a statement claiming that the "Goojje" Web site's logo violated copyright statutes and that legal action could follow if the site doesn't take it down immediately.
The two cases illustrate the difficulty China — or, for that matter, any authoritarian regime — faces when it tries to show the world that it can, indeed, control the Internet.
Google's Response
Legal action is a possibility if Goojje doesn't comply with its request regarding its logo, Google spokesperson Jay Nancarrow told the E-Commerce Times. ""Goojje is not affiliated with Google. Google officially asked Goojje to stop copying Google's logo, which is protected by trademark," Nancarrow said.
There's no way to know yet if the Chinese government will get involved in the Goojje case. Its officials seem to have their hands full trying to lower the decibel level in its own dustup with Google, which recently claimed that hackers based in China staged a network intrusion and accessed some Gmail accounts. Google was one of 20 companies that were attacked; it has since refused to follow Chinese censorship demands, threatened to end its operations in China and reportedly asked the National Security Agency to look into the matter.
The loud announcement of the arrest of the Black Hawk site proprietors is straight out of the Chairman Mao playbook, said James Lewis, senior fellow at the Center for Strategic and International Studies and a leading expert on global network security issues. "They love show trials," Lewis told the E-Commerce Times. "When they decide the environment is a problem, they arrest somebody for pollution. When they decide corruption is a problem, they arrest somebody for corruption. This is just part of the Chinese political culture. For me, it's a 'talking point' arrest. When we claim that they don't take the hacking problem seriously, they can point to this and say, 'Look, we just broke up this ring, you can't say that.'"
China's Own Hacker Problem
Other countries, including Brazil, Russia and the U.S., have similar hacker training Web sites, Lewis said, and another Chinese one may pop up in Black Hawk's place. It points to the Faustian relationship that's developed between China and its black-hat hackers. China's military may recruit and train its own "official" hackers, and have a wink-and-nod relationship with others, but "it would be wrong to say they have complete control over" the hacking community in the country.
"This is a problem for the Chinese. They enjoy using these hackers as a kind of irregular force to supplement their own military and intelligence services, but at the same time they've got a big cybercrime problem too," Lewis said.
The Google attack, coupled with recent tough rhetoric from Secretary of State Hillary Clinton about China, may indicate a new, get-tough approach on the U.S. diplomatic level that Beijing may also be trying to affect with the Black Hawk shutdown. "Some of the traditional agencies are now thinking, 'we've got a national security problem, what do we do about it?' You might see some steps that make it harder for this kind of thing to happen without penalty."
However, retaliatory cyberactivity by the U.S. won't likely be a part of the game plan — for the same reason why the recent China hacks have been simple probes and intrusions and not complete network takedowns, Lewis said. "I think it's unlikely because it's so dangerous. If you interfere with somebody's critical infrastructure in their home territory, that's a big deal, so both sides are going to be careful. You might see things like legal actions, appeals to the WTO (World Trade Organization), trade action, maybe some of the normal things we do in espionage. That's what they're working through now."