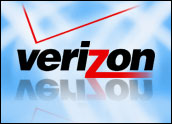 Just as Skype devotees use the Voice over Internet Protocol (VoIP) service to talk to friends and family anywhere in the world, Verizon Wireless used Skype Tuesday to send a loud message of its own to Apple, AT&T and the rest of the competition: We can play the VoIP game too.
Beginning in March, Verizon said, the wireless carrier will offer a full suite of Skype mobile services on nine of its smartphones — the Motorola Droid and Devour, the HTC Droid Eris, as well as the BlackBerry Storm, Storm2, Curve and Tour. Users with data plans will be able to enjoy the same features that have made it an appealing alternative for those looking to save money in tight economic times by bypassing traditional voice charges: Skype-to-Skype calls over Verizon's 3G network, international calls at lower-than-voice rates, instant messaging and chat services. The same caveats that Skype users should know by now also apply in the new Verizon deal: no 911 emergency calls, and a broadband connection is required.
The announcement, made at the 2010 Mobile World Congress in Barcelona, puts Verizon Wireless in the unique position of actually embracing a technology that has been a worry for carriers ever since Skype's beginnings in 2003. While Apple's iPhone has offered a Skype app for about a year, it's only for WiFi use, although Skype announced in early February that it was preparing to offer a version that could be used on AT&T's 3G network. Still, the perception for AT&T users is that it has had to be dragged kicking into screaming into the Skype universe. Verizon is advertising the partnership — and its data plans — at the same time.
A New Wireless Frenemy?
"It really does help to put [Verizon] in a good light compared to AT&T in being more open," 451 Group research director Chris Hazelton told the E-Commerce Times. "They are still very clear that you need a voice plan. You can't just have a data plan on a smartphone and use Skype. But they're still going to be OK and make money. It does help them in a more positive way as a carrier that's being more open-minded."
That might be due to Verizon's marketing strategy, Hazelton said. Although Sprint has shown more openness to both consumer-friendly features and pricing plans in the past, "it just seems like Verizon gets more legs from it on the marketing side, because they have been more stringent in the past for what could be on the network" as it played up its own offerings like Verizon Services.
The unstated dig at AT&T with this announcement, added Pund-IT principal analyst Charles King, is that Verizon's network can handle the additional data-calling load. "[Verizon] has managed to pound almost every one of their competitors down into the ground with one kind of shortcoming or another, whether it's AT&T's 3G network or what have you," King told the E-Commerce Times. "This is just the sort of announcement that allow them to remain in the thought-leadership pilot seat."
The Long-Term Business Strategy
The Verizon-Skype linkup may especially appeal to the younger smartphone shoppers, King said. "There's really been a generational pressure point with older consumers and businesses maintaining landlines, while younger people have been moving on to wireless plans, which makes a great deal of sense if you're moving around a lot." As the next generations of smartphones feature more Web integration, it will make sense for other companies besides Verizon to enable services like Skype.
It's also a realization on Verizon's part that as voice plan revenues continue to fall, data plans will contribute more to the company's bottom line as it keeps laying the foundation for a smartphone future. "I think it's a driver for people opting for phones with good data plans. For Verizon, this is a way of saying, 'Hey, our network can handle this.' This is helping to build further interest in data as they roll out their 4G network later this year," Hazelton said.