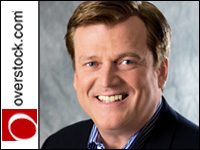 Overstock.com is a retail site that, similar to Amazon.com, sells products in just about any consumer category, from clothes to electronics to home goods to furniture. Not surprisingly, it hid a major skid last fall when the U.S. economy went into seizure.
"We were growing 27 percent through the first part of the year," CEO Patrick Byrne told the E-Commerce Times. "By Q4, we had shrunk 13 percent."
In Q1 2009, the company's growth contracted another 7 percent to 8 percent, he said.
Then, at the end of June, Overstock.com experienced a turnaround of sorts — positive growth in the range of 3 percent. Bryne could not say how much of that — if any — was due to a general economic change. However, he did say that the company's steady investment in technology, even during the dark days at the beginning of this year, was surely a significant contributor.
"We have been focusing on continually improving — refining our site, our approach. I would say our new technology investments are 50 to 75 percent of those improvements," he estimated.
The E-Commerce Times spoke with Bryne about the tech improvements Overstock.com is making — and would like to make — when the industry and his own development staff are ready.
E-Commerce Times: Where have you been spending your IT dollars over the last year?
Patrick Byrne:
We use RightNow, and we have been investing money and resources to fold the homegrown component of our CRM system into RightNow. We've been doing that for the last six months. Customer service is very important to us — people tend to overlook it and think of it as a cost center to be minimized. But we are planning an even bigger push in personalization.
Personalization technology being developed now by third parties is getting very good. That wasn't always the case, you know — too often the integration would prove to be very cumbersome and the results too basic.
But two things have changed — the integration is now happening on the Web page itself with Javascript variables, which makes it much lighter and quicker to do. Also, the algorithms running it have, among some providers, changed dramatically and are now much more intelligent. So, we have been focusing a lot of research and resources in this area.
ECT: For instance?
Byrne:
We've tested a lot of suppliers and, while I don't want to sound like an infomercial, will tell you we found one we like a lot — it's ChoiceStream in Boston. They have a sophisticated approach to the algorithms. Normal algorithm use in these kinds of deployment is called "collaborative filtering" — in other words, the basic algorithms of recommendation. ChoiceStream, with its mathematically advanced approach, is more sophisticated and powerful — they use Bayesian modeling.
ECT: What is the difference in practical terms?
Byrne:
It is more analogous to, say, a Nordstrom sales rep who knows your tastes already. You go into the store and tell him you want a handbag, and he picks out the bag he thinks you will like the most.
ECT: Isn't that how personalization technology is supposed to work anyway?
Byrne:
It's what the industry has held out for five years as the big new thing, but nobody has gotten it right so far. I don't want to make it sound like ChoiceStream is the only good vendor — there other new players in this field that we are watching too that we think will be pretty big when the time comes.
ECT: Such as?
Byrne:
I don't want to say until I am sure they will deliver what they are working on right now.
ECT: What other tech developments are you planning?
Byrne:
Content management in the last two to three years has gotten more sophisticated. We are looking at a company called "TouchClarity," which was purchased by Omniture in 2007. We intend to implement TouchClarity within a year. We just don't have the resources to get it done this year, but Q1 2010 will be our goal.
ECT: How much do you invest in technology?
Byrne:
About 3 percent to 4 percent of our revenue is invested in technology — more towards the low end, though, of that number.
ECT: Did you pull back when the recession hit?
Byrne:
No, in fact we are getting much more aggressive about it, and that ratio is going up for us. Our problem has been we can't invest in technology as fast as we would like because we don't have the in-house resources to deploy it.
ECT: It sounds like you are talking about people, not money.
Byrne:
That is right.
ECT: That is unusual for a recession — you really can't find enough talented developers to hire?
Byrne:
No, at least not with the right attitude. It's our biggest bottleneck right now. It is hard to get good developers that can work in a team environment. I have found that maybe one in 20 can do that. In fact, we have more ideas than our developers can possibly get done — we are finding we have to triage our ideas.
ECT: So, you are actually looking to hire developers right now? How many?
Byrne:
We are actively trying to fill 15 slots, but that is just a short-term goal. I would hire 100 tomorrow if they were the right people.