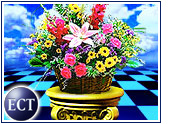 Thanks to dutiful sons and daughters, the approach of Mother's Day has become highly visible online, with a profusion of flowers, candy and other tokens of esteem displayed.
It is harder to predict, however, which e-tailer will come out ahead in the race to win the affection of online shoppers, who last year made the holiday a pretty one indeed. FTD.com boasted a 238 percent increase in Mother's Day-related traffic in 2002, and 1-800-Flowers (Nasdaq: FLWS) claimed a one-day high of 150,000 orders.
Because consumers have grown even more comfortable shopping online, this year could prove even sweeter for Mother's Day-focused e-tailers. To reap the maximum rewards, many companies are taking an aggressive approach to woo customers.
Gearing Up
The week before Mother's Day, which falls on May 11th, should be an especially activeone for e-tailers specializing in presents that Mom might like, if the past is any indication. Even in a turbulent economy, this holiday is seemingly recession-proof, withfilial love often winning out over empty pocketbooks.
"People might think that Valentine's Day is the big one for flower purchases," 1-800-Flowers spokesperson Ken Young told the E-Commerce Times, "but when you think about it, not everyone has a sweetheart. However, everyone has a mother."
Every e-tailer knows that. Sites like FTD.com, RedEnvelope, Proflowers.com and 1-800-Flowers have been pushing hard to win shoppers as the holiday nears, competing against each other and against titans like Amazon.com.
Tactical Thinking
In this heated contest for the hearts and minds of Mother's Day shoppers, it is not enough to display images of flower arrangements and hope for the best. Something else is vital: promotion, and plenty of it.
Mom-focused e-tailers have been using the usual techniques, such as sending e-mails to opt-in customers, but there are new strategies this year as well.
1-800-Flowers is holding a contest based on the best maternal advice (the company has already heard "eat your vegetables" several times over), and on May 6th, it will be opening the Nasdaq trading floor to promote its "Bring Your Mom to Work" day. That event, a benefit for ovarian cancer research, has drawn support from several large companies, including AT&T.
Although these initiatives foster a sense of well-being among employees and create a positive image of the company, Young noted that 1-800-Flowers is not taking its eyes off the prize.
"Don't get me wrong," he said. "We'll be selling a lot of flowers. And I mean a lot. Last year, we sold more than 500,000 arrangements, and keep in mind that only half our revenue comes from floral gifts, so we expect to see growth in the non-floral items as well."
Rose Is a Rose
In the flower arena, competition seems especially heated. Along with 1-800-Flowers' offline promotions, other e-tailers also are working to distinguish themselves enough to draw holiday orders.
Tracy Benelli, spokesperson for Proflowers.com, told the E-Commerce Times that Proflowers recently created a catalog detailing its products and has been pleased with the results.
"We're also sending our quality assurance teams to all of our growers to hand-select the best flowers for our customers," she said. "This has become standard operating procedure for our company."
Sweet Smell of Success
In terms of the ultimate procrastination tool, however, FTD.com may trump other sites: The site guarantees same-day delivery through its florist network.
Caroline Barni, FTD vice president of corporate relations, told the E-Commerce Times that FTD is the only e-tailer that can make that kind of promise.
In addition to last-minute delivery, Barni said, the company has added new products and will expand its number of call center personnel to handle the rush.
The FTD brand name helps, too, she added. "We have over 96 percent consumer awareness for brand. That's pretty notable. And our member florists participate in our advertising by using our name and site in their print advertising for Mother's Day."
Handicapping the Gift Horses
With a slew of e-mail pitches winging their way through the ether and promotions still launching, it is difficult to predict which e-tailer will come out ahead, but as IDC analyst Jonathan Gaw told the E-Commerce Times, it may come down to which one can do the best job of nagging potential customers.
Gaw said there are two kinds of buyers: those who plan ahead and carefully shop for their gifts, comparing prices at sites and placing orders in plenty of time; and, as he put it, "the other 95 percent of people."
To reach that last-minute majority, Gaw said, sending out reminders is key and necessitates utilizing a variety of tactics. He noted, "They'll have to get shoppers to look at the message, to suddenly say, 'Oh yeah, Mother's Day is coming,' and that can be done through sponsored searches and working the appropriate online marketing."
Brand Advantage
It also could be that despite marketing savvy, shoppers will simply gravitate toward the companies they know best.
"Part of it is having a strong brand name," Gaw said. "FTD will do very well because of this, and 1-800-Flowers, too … RedEnvelope's brand isn't as strong. They're going to have to work a little harder."
Even those with strong branding undoubtedly will redouble their efforts as Mother's Day draws closer, and shoppers in search of flowers, candy and other gifts should have plenty to peruse in the next week.