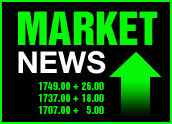 U.S. stock markets began the first full week of the fourth quarter with across-the-board gains, with tech stocks again slightly outperforming blue chips on Wall Street.
The Dow gained 23.89 to close at 10,216.54, while the Nasdaq was up 10.20 points to finish the session as the day's biggest percentage gainer, to 1,952.40. The S&P 500 rose 3.67 to 1,135.17.
Factory Orders
On the economic front, the lone piece of new data released today did not bear the best news for optimists, with the Commerce Department saying that orders for U.S.-made factory goods fell 0.1 percent in August. It was the first monthly drop since April and below a modest gain expected by economists.
More positive were comments from the president of the Federal Reserve Bank in Philadelphia, who said in a speech that the economy is on pace to grow by 3.5 percent to 4 percent through the end of 2005.
Technology stocks, including semiconductor shares, were trading higher after posting their best one-day performance in six months.
Oil Retreats — a Little
Oil futures inched lower today, but remained close the US$50 threshold. The easing came after tensions let up somewhat in Nigeria and in anticipation of another report from the U.S. Energy Department on U.S. fuel stores.
A surprising increase in oil stockpiles in the U.S. helped stop a long run-up in crude futures last week. Today, futures trading on the New York Mercantile Exchange closed down 21 cents at $49.91.