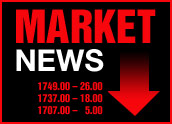 Oil prices weighed heavily on U.S. stock markets today as investors were left to ponder not if but when oil will break the $50 barrier — and what will happen as a result.
Oil futures shot to new high levels, reaching $49.64 a barrel on the New York Mercantile Exchange, up 76 cents on the day. That marks a record high closing price, though prices have been higher in the past when inflation is taken into account.
That's little consolation to investors, who have seen oil prices mute or kill would-be stock rallies and serve as a potential economic wildcard with the power to drive down consumer spending and drive up prices of many goods.
All Indexes Lower
All major stock averages were sharply lower today, with the Dow falling below the 10,000 level once again, closing at 9,988.54, a loss of 58.70 on the session.
The Nasdaq was the day's biggest percentage loser, dropping 19.60 points, or about 1 percent, to 1,859.88.
The S&P 500 shed 6.59 points to finish at 1,103.52.
Other factors also sent stocks down today, including analysts' comments that weighed on several technology sectors.
Networking and telecommunications stocks in particular were under pressure after Prudential Securities lowered its expectations for the entire sector. Hard-hit were Nortel Networks, which dropped nearly 3 percent on the session, and Lucent Technologies, which fell 1.3 percent.
Oil Prices
While there is widespread disagreement about the direct affect that oil prices have on the U.S. economy, market analysts say the odds of a significant rally is greatly diminished while oil remains at record-high levels.
Meanwhile, the fact that the U.S. presidential election is now just six weeks away might convince many investors to stay on the sidelines rather than expose themselves to risk of political fallout.