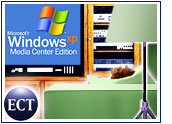 Microsoft is positioning itself to extend its reach from the personal computer to the living room by becoming the go-to company for digital movies and music within the next three years, the company's chief executive said.
CEO Steve Ballmer said one of his goals for the company is to expand Microsoft's importance in markets such as music players, mobile handsets and television set-top boxes.
The consumer side of Microsoft's business will include extending its reach to more devices and more applications in coming years, Ballmer said. "I hope that we can achieve that over the next two or three years," he said.
"I think we're close to a tipping point," he added. "The key is getting this stuff to be simple to use, and we need a device that can get to a critical mass.
Thinking Big
Ballmer issued what could be construed as a compliment to Apple, but quickly emphasized that the market Microsoft envisions is much larger than the one Apple has awakened.
"Apple Computer has done some nice work with the iPod and iTunes, but that's just the tip of the tip of the iceberg," he said. "But there's no way that anything will get to critical mass with Apple because they don't have the volumes."
He also said that the iPod gained much of its popularity through the downloading and playing of pirated music, waters that Microsoft has managed to steer clear of, a fact it hopes will gain it favor from the entertainment industry.
Ballmer was in the UK to pump up the recent release of its Media Player 10, which is being hailed by some reviewers as the first real challenge to Apple's dominance in the online music space.
Microsoft — People's Choice?
Enderle Group principal analyst Rob Enderle said Microsoft already enjoys great name recognition and a strong brand image among consumers.
"They are perceived as a company who can set standards and get things to work together, which is a powerful positive, however they also have a reputation for providing unreliable products, which is a significant problem," Enderle told the E-Commerce Times.
One area in which they will want to improve, however, is marketing. "They haven't, historically, been good at building sustaining demand. Apple, who has vastly smaller resources, out- markets them to such an incredible degree that you would think their sizes were reversed. It is up to Microsoft to step up to the challenge. They have the resources to do this, they are fixing the skills problems that lead to this mismatch, now it is simply an issue of execution."
Enderle said he sees Microsoft doing a "difficult dance" to cozy up to both consumers and the entertainment industry. For instance, Ballmer's criticism of the iPod phenomenon is designed to appeal to the industry.
Content Owners
"Apple is more focused on the users, and Microsoft on the content owners. Right now, the content owners are the critical path to success," Enderle said. With Microsoft poised to launch digital rights management standard Janus into the marketplace, a clear winner could emerge within a year.
"Today, Apple is out-executing Microsoft by a significant margin — but that may be about to change," Enderle said.
Yankee Group analyst Laura DiDio said the importance of Media Player 10 is emphasized by Microsoft's willingness to engage in a long, costly and potentially damaging court battle with European regulators.
"This is the centerpiece of an entire strategy to be the channel through which entertainment flows," DiDio said.
By pinning down a time frame for the transformation, Microsoft may be indicating that behind-the-scenes negotiations with record labels and movie studios to adopt its platform and standards for distributing and controlling digital rights is gaining steam. Still, DiDio noted that Microsoft's time frames have a tendency to be fluid, citing the lingering confusion over exactly when Microsoft's Longhorn platform will be available.
Passing on PeopleSoft
Separately, Ballmer made headlines during his press tour in the UK by telling reporters that the company had no interest in being a white knight riding to the rescue of PeopleSoft from Oracle's hostile takeover bid.
Ballmer acknowledged that Microsoft at one point had expressed interest in acquiring SAP, but was quoted by the Financial Times as saying of PeopleSoft: "I know SAP, and they're no SAP."
In general, he added, Microsoft's acquisitions will be of smaller or midsized companies.