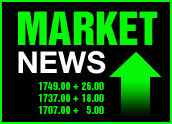 A better-than-expected report on U.S. economic growth late in 2004 spurred stocks to their third straight day of gains, a rally that helped wipe out stiff losses suffered at the start of a holiday-shortened trading week.
The Dow today gained 92.81 points, or 0.86 percent, to finish at 10,841.60. The blue chip index finished the week at its highest level of 2005, despite a 170 point plunge on Tuesday. The Nasdaq came to rest at 2,065.40, up 13.70 points, or 0.67 percent, for the day and up slightly for the week. The S&P 500 rose 11.17 points, or 0.93 percent, today to finish at 1,211.37, also a high point for the year.
Economic Growth
The trading week had just four sessions because of the Presidents' Day holiday.
Stocks rose after the Commerce Department today said the U.S. economy grew at an annual rate of 3.8 percent in the fourth quarter, more aggressive expansion than the 3.1 percent rate previously estimated and better than economists had expected. The growth rate was down from the 4 percent in the third quarter, but still strong enough, economists said, to sustain business expansion and job growth.
Among individual stocks, Apple shares were up slightly to US$88.99 in the last day of trading before a two-for-one stock split, which will be in effect when shares open for trading on Monday. Apple shares are trading near their one-year high in the wake of recent moves to expand its line of iPod music players.
Oil Up, Dollar Down
Markets made the gains despite a hefty increase for oil futures over the week. Oil prices were up 5 percent on the week, rising another 10 cents today to $51.49 a barrel.
The dollar was weaker again today, losing 0.4 percent against the euro and 0.3 percent to the yen.
Investors will have plenty of data to digest next week, including the February jobs numbers, which are due out next Friday.