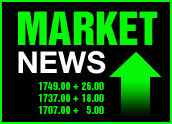 Stocks roared out of the gate today as investors cheered the relatively quick resolution to the presidential election and — in some sectors — the investor-friendly victor.
Despite a late-day sell-off prompted by a rebound in crude oil prices, the Dow posted triple-digit gains, and all three stock indexes finished higher by approximately a full percentage point.
The Dow rose 101.32, or 1.01 percent, to close at 10,137.05. The Nasdaq gained 19.54, or 0.98 percent, to close at 2,004.33, its best closing level since midsummer. The S&P rose 12.62 points, or 1.12 percent, to 1,143.20.
Oil Stocks
Investors were even more bullish early in the day when it became clear that President Bush would win re-election, but a late-day uptick in oil prices prompting some selling. Crude futures were up US$1.26 on the session to $50.88 per barrel.
Oil stocks performed well on Wall Street, as did defense and drug stocks on the belief those industries would benefit from a second term for Bush, while biotechnology stocks tied to stem cell research were hit as a sector, given the president's opposition to federally funded research in that area.
With the election and the uncertainty it brought resolved, investors are likely to set their sights firmly on economic conditions. On that score, they got another batch of data today to help them evaluate the relative health of the economy.
Factory Orders
The Commerce Department said orders to U.S. factories fell in September, marking the first two-month decline since late 2002. Factory orders were off by 0.4 percent to $368.3 billion, while forecasters were looking for a modest gain.
A report on the service sector was more upbeat, with the Institute of Supply Management saying its non-manufacturing index for October rose to 59.8 percent, narrowly exceeding forecasts.