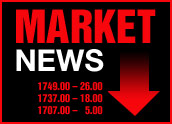 Stocks ended a three-day rally today with stiff losses as some investors were seen taking profits with the closing of books for February and with inflation worries persisting.
Fears of immediate inflation had largely been doused by last week's consumer price index, which showed that price jumps seen at the wholesale and import levels had yet to reach the retail level.
High Oil Prices
However, some still see trouble on the horizon, especially since oil prices have broken above the US$50 barrier and show no signs of dropping. Investors might be waiting to hear what Federal Reserve Chairman Alan Greenspan says about the direction of prices when he testifies before Congress on Wednesday.
By the close, the Dow was off 75.37, or 0.7 percent, to 10,766.23. The Nasdaq lost 13.68, or 0.66 percent, to 2,051.72, and the S&P 500 was off 7.77, or 0.64 percent, to close at 1,203.60.
The drop was also precipitated by a battering to a leading pharmaceutical stock. Biogen Idec, which was named the top stock of the last 10 years by the Wall Street Journal earlier in the day, was off 42.6 percent after the multiple sclerosis drug it co-developed with Elan was withdrawn from the market due to health concerns. Elan was hit even harder, dropping more than 70 percent on the session.
Not a Bad Month
Still, from a broader perspective, many stocks managed to post gains for the month. The Dow was up 2.63 percent for the month and the S&P 500 gained 1.89 percent. The tech-heavy Nasdaq, however, lost 0.52 percent.
Oil prices show no sign of giving up recent gains. Futures traded higher by 26 cents today, closing at $51.75 on the New York Mercantile Exchange.
Also today, new home sales were reported to have dropped sharply last month, falling 9 percent. The decline was attributed largely to bad weather.
In addition to Greenspan's testimony, investors will be waiting for Friday's Labor Department report on job creation for January. Many analysts are expecting an upbeat number based on GDP growth and recent weekly unemployment reports.