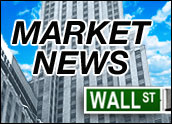 Markets finished mixed and little changed today as stock investors found themselves dealing with a torrent of business news, from the latest telecom merger to more abrupt CEO departures and expanding investigations into the insurance industry.
The Dow finished in the red, losing 4.88 points, or 0.05 percent, to 10,791.13. Both the Nasdaq, which climbed 6.25 points, or 0.30 percent to 2,082.91, and the S&P 500, which was up 0.84 points, or 0.07 percent, to 1,206.14, were up for the session.
Investors might have been overwhelmed by the sheer volume of news on specific companies.
Verizon-MCI Deal
The consummation of the Verizon buy of MCI for US$6.7 billion led the day and helped boost telecom stocks across the board, though Verizon itself saw its shares down slightly by day's end. Later, Office Max announced its CEO had quit and that two other executives had been fired amid an accounting investigation, sending its stock lower by nearly 6 percent.
Then insurance giant AIG saw its shares hit hard, falling nearly 3 percent, after New York State Attorney General Eliot Spitzer and the Securities and Exchange Commission served company executives with subpoenas.
Hewlett-Packard shareholders might also have gotten cold feet ahead of the company's first earnings release since the departure of CEO Carly Fiorina late last week. HP is due to report after markets close on Wednesday.
Dollar Gives up Gains
Investors in the U.S. dollar were more certain about how to react to news that Japan's trade surplus had hit record high levels in December. The dollar lost more than a full percent against the yen and was also lower by 0.6 percent against the euro. The Greenback enjoyed a brief run against both currencies fueled by tough talk from the U.S. on curtailing budget deficits.
The fate of the dollar is expected to be a recurring theme when President Bush makes an upcoming trip to Europe.
Oil futures were up slightly on the session, gaining 28 cents to $47.44 a barrel as investors prepare for new data on U.S. fuel stockpiles due out later in the week.