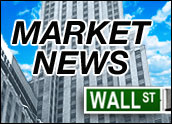 Stocks held the line today after comments from Federal Reserve Chairman Alan Greenspan that seem to suggest more interest rate hikes are in the offing.
Greenspan told Congress that the economy was performing well and that a significant slowdown was unlikely. That, and Greenspan's comments that interest rates might have more room to rise before pinching economic growth, likely means that the Fed will at least continue to raise rates gradually and might be poised to begin raising rates even more quickly.
Dollar Up
Stocks fell as he spoke, but by session's end had moved back close to the flatline. For the day, the Dow was lower by just 2.44 points, or 0.02 percent, to 10,834.88. The Nasdaq fell 1.78 points, or 0.09 percent, to 2,087.43. The S&P 500 managed a modest gain, rising 0.22 points, or 0.02 percent, to 1,210.34.
One place Greenspan's comments did help immediately was in the currency market. The Greenback rose nearly a full percent against the yen and 0.3 percent versus the euro on the prospect that interest rates would go higher.
Helping the rebound was a report from the Commerce Department showing that construction of new homes and apartments rose 4.7 percent to some 2.16 million units in January, the highest level in more than 20 years.
Industrial Production, Oil
Separately, the Federal Reserve said industrial production was flat in January after a gain of 0.7 percent in December, compared to a forecast for a 0.3 percent increase.
Oil trading was volatile and heavy after the Energy Department and the American Petroleum Institute both reported increases in crude inventories last week but sharp drops in heating oil. Crude futures rose US$1.07 per barrel, or 2.4 percent, to $48.33 a barrel.