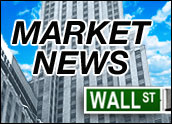 A report showing the U.S. economy continuing to expand failed to spark a rally in stocks today as shares closed out a strong week with a mixed session.
The Dow managed to add to the week's gains, tacking on 22.93 points, or 0.23 percent, to end the week at 10,027.47. The Nasdaq lost a little ground, dropping less than a point to finish at 1,974.99. The S&P 500 was up 2.76 points, or 0.24 percent, to 1,130.20.
For the week, the Dow was up 2.7 percent but still posted a 0.6 percent loss for the month. By contrast, the Nadaq climbed 3.1 percent this week and 4.1 percent during all of October as tech shares shined the brightest over that span.
Presidential Election
Many analysts had predicted a relatively quiet day on the markets, with many investors wanting to remain in neutral positions heading into next week's presidential election.
In fact, on what was also the last trading day of the month, the markets seemed mostly unmoved by big-picture economic data.
The Commerce Department reported that the gross domestic product grew in the third quarter at an annual rate of 3.7 percent. That's an improvement over the 3.3 percent growth rate clocked in the second quarter and marked the best reading since the first quarter. Still, it was slightly below most forecasts.
Oil Rebounds
Perhaps keeping stocks in check was a resurgence in oil prices. After losing some 8 percent since closing at record levels last week, oil rebounded slightly today, adding 84 cents in New York trading to US$51.76. That's still $4 below where crude futures began the week.
Investors continue to be skittish about the insurance industry as investigations into price-rigging allegations continue. Today, American International Group said it had received a subpoena from Connecticut Attorney General Richard Blumenthal seeking information for the probe, which began in New York state. Shares of AIG lost 1.8 percent, making it the day's worst performer on the Dow.