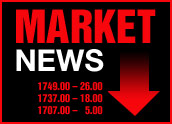 The prospect of inflation spooked investors today, as a report showing a sharp rise in wholesale prices last month caused stocks to end the week with a losing performance.
The Producer Price Index (PPI) rose 0.5 percent in November, the Labor Department said, more than expected and the second straight month of increases after shooting up 1.7 percent in October. Forecasts were calling for a 0.1 percent increase. The core rate rose just 0.2 percent, however, suggesting that volatile energy and food prices played a large role in the November increase.
Stocks seesawed around the flatline most of the day as they digested the news, with all major averages slipping slightly into negative territory at the close.
Inflation Concern
The Dow lost 9.60 points, or 0.09 percent, to finish at 10,543.22, down 0.5 percent for the week. The Nasdaq closed at 2,128.07, losing 0.94 points, or 0.04 percent, on the session. For the week, the tech-heavy Nasdaq was off 0.9 percent. The S&P 500 lost 1.24 points today, or 0.10 percent, to 1,188.00, giving up 0.25 percent for the week.
Investors have not had to worry about inflation, focusing instead on economic growth issues such as recently sluggish job gains. But at the very least, the PPI number brought inflation back into the picture and made it likely that the year-long campaign by the Federal Reserve to raise interest rates will continue into 2005.
Meanwhile, OPEC confirmed today what many had expected — that the oil cartel will reduce daily output next year in order to lend support to slumping prices.
Oil Prices Down
OPEC said it would cut its daily production by 1 million barrels per day starting January 1 and said it would revisit the issue again if necessary at a special meeting it set for late January.
Despite the move, oil futures traded lower today and closed at US$40.71 in New York trading, down $1.82 on the session. It marked the first time oil futures closed below $41 per barrel in four months.
Traders said the price drop reflected skepticism that all OPEC nations would adhere to the lower output standards.