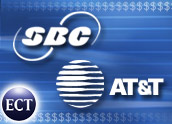 AT&T lives. While the company itself is about to be swallowed up by a one-time subsidiary, the AT&T name, long synonymous with phone service in the U.S., will survive.
SBC Communications, which is on the verge of closing its US$16 billion deal to buy the legendary telecommunications giant, announced it would keep the AT&T name in place for the combined company, ending weeks of speculation about whether the single most significant brand name in telecom history would be extinguished.
SBC said it would roll out a new AT&T logo and launch a major advertising campaign designed to burnish the brand as a cutting-edge telecommunications service provider once the deal closes in the next month or so.
The decision means the 120-year-old brand name will once again grace the largest telecommunications concern in the country, as it did for decades before the Ma Bell monopoly was broken up by regulators.
"The AT&T name has a proud and storied heritage, as well as unparalleled recognition around the globe among both businesses and consumers," SBC CEO Edward E. Whitacre Jr. said in a statement. "This is the brand that will lead the industry in delivering the next generation of communications and entertainment services."
Ticker Talk
SBC said its own research shows a 98 percent consumer awareness of the AT&T brand, a 100 percent recognition rate among U.S. corporations and strong awareness worldwide.
SBC said it would announce after the deal's close what ticker symbol it would use. AT&T is one of fewer than 20 companies with a single-letter ticker (T). Fellow telcos Qwest (Q) and Sprint Nextel (S) also share that distinction.
The recent rash of major telecom mergers has led to several similar branding decisions. For instance, Sprint decided to keep the Nextel name, appending it to its own to create Sprint Nextel, though some observes say the Nextel name will likely fall by the wayside over time.
Verizon has not yet formally announced how it will handle the MCI brand when it completes that $8.4 billion takeover. The MCI brand has its own history, some of it infamous, having morphed into WorldCom before changing back to MCI after a massive bankruptcy filing.
Telecom analyst Jeff Kagan told the E-Commerce Times that the decision was not an easy one for SBC, whose own name is a strong brand in the regional areas it serves.
"Both names have value," Kagan said. "But of all the names in telecom, only one has the history of AT&T."
SBC will need to modernize the AT&T image, however, to "play in the new game of telephone, television, Internet and cellular, but that will be easy compared to trying to carve out a new name like SBC in market after market around the country."
Bigger Issues
Killing off the AT&T name might have also been a public relations faux pas, he added. "After the merger of SBC and AT&T was announced many people wondered and worried," he said. "After all AT&T was the name of the phone company since we were kids, and in fact since our parents and our grandparents were kids. It would have been sad and a waste of all that historic brand value."
In the long run, however, choosing a name may be one of the easier aspects of the mega telecom mergers, as companies set out to integrate customer bases, fixed line and wireless networks and marketing efforts into a seamless package able to compete with upstart technology such as VoIP and with cable companies eager to take a piece of the phone business.
SBC is expected to close the AT&T buy before the end of the year, while Verizon's acquisition of MCI is on track to close early in 2006. Both companies hope their purchases of onetime long-distance giants will help them secure more business customers and round out their portfolios of product and service offering.
The result, said Kagan, will be the start of a new era of telecommunications competition that is a virtual free-for-all, with cable companies, telecoms and third parties all offering voice calling, long distance, Internet access and cable television through their connections into users' homes.