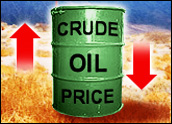 Crude oil prices soared Wednesday, reaching their highest levels in 20 years after another violent day in Iraq and more bad news from Russia's Yukos renewed fears about supplies to the U.S. and other countries being impacted by terrorism.
During the trading day, prices for crude futures actually set an all-time high of $43.05, but later dipped back to $42.90.
The spike came after a car bombing rocked Iraq overnight and as news reports out of Russia indicated that Yukos, which pumps out up to 2 percent of the total worldwide oil supply, might be ordered to shutter operations because of a bankruptcy proceeding.
Markets Shrug
Although they were initially hit hard, stock markets rebounded late in the day, choosing to look past the oil price volatility and focus instead on earnings reports and other economic data.
The Dow, which had been down as much as 90 points during the session, gained 31.93 to close at 10,117.07.
The Nasdaq finished in the red, however, dropping 10.84 points to finish the session at 1,858.26 while the S&P 500 moved higher by less than a point to 1,095.42.
Other Moves
Aircraft maker Boeing helped lift the Dow after outpacing expectations in its second quarter earnings report and boosting its outlook for the rest of this year and for 2005.
The Nasdaq lagged as some tech sectors were hit by downgrades as both J.P. Morgan and UBS issued notes cutting estimates on some companies in the semiconductor equipment space after paring growth projections for the consumer electronics industry.