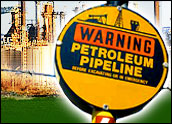 Oil prices flirted with record high levels again today as a fresh round of sabotage attacks in Iraq revived fears that supplies to the U.S. could be impacted.
Crude oil prices soared as high as $41.90 during the day in New York trading before settling to $41.64 at the close, a seven-week high.
Oil set an all-time record of just over $42 in June.
Rallying in Recent Weeks
Since then, prices dropped sharply but have rallied in recent weeks as U.S. demand for gasoline remained high enough to prevent any significant growth to stockpiles that could be tapped in the event of a disruption of supply.
The latest round of violence in Iraq included a suicide bomb attack involving a fuel truck near a Baghdad police station.
Markets Split
It was a mixed day on Wall Street, meanwhile, with the Dow losing nearly half a percentage point and the Nasdaq finishing basically flat, helped by buying in some tech shares that had been hit hard in recent weeks.
The Dow dropped 45.72 points to close at 10,094.06, while the Nasdaq gained less than a point to 1,883.83 and the S&P 500 lost half a point to finish off the session at 1,100.91.
Materials Giant 3M
Dragging on the Dow was materials giant 3M, which shed more than 5 percent after it issued a softer-than-expected outlook.
The Nasdaq got a boost from Microsoft, which closed up nearly 2 percent after Goldman Sachs predicted the software giant will beat earnings expectations when it reports later this week.
Also higher were shares of computer consultant EDS, which gained 3 percent on the day after it won a $1.1 billion contract to merge the computer networks of Bank of America and FleetBoston.