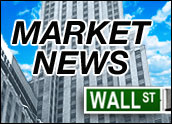 Stocks limped to the end of the week on Friday, closing down for a three-day weekend with moderate losses across the board after a weaker-than-expected jobs report and warnings from some bellwether tech companies.
Stocks traded lower all day, following the morning release of the June jobs report that saw 112,000 jobs added, about half of what was expected, and no change in the unemployment rate of 5.6 percent.
The Dow closed down 51.33 points, or exactly one half a percent, to 10,282.83. The Nasdaq lost 8.89 points to end the week at 2,006.66 and the S&P lost 3.56 to 1,125.38.
The major indices were all lower for the week, as the two days of losses wiped out gains made heading into and just after Wednesday's quarter-point interest-rate hike — the news that was supposed to be the week's big market mover.
The Dow lost 89 points on the week, while the Nasdaq was down 19.
Raising Questions
Questions about the strength of the recovery and what it would mean for corporate earnings reverberated on Friday.
Intel suffered after an analyst firm downgrade and shares of Apple took a hit after the company announced Thursday that it would delay the release of its next line of iMac computers.
Apple shares lost more than 4 percent in trading Friday.
The U.S. dollar also suffered on the jobs data, falling to a three-week low against the Euro and losing ground against the Yen.
International Markets
Elsewhere, oil prices fell after a sharp two-day run-up fueled by supply fears and the possibility of terrorist actions over the long holiday weekend.
The drop was attributed in part to the upcoming output increases from OPEC countries.
U.S. Treasury bonds gained ground as the weak economic data eased fears about rapidly rising interest rates.
Although next week will be a short one because of the July 4th holiday, it also will mark the start of earnings season with several Dow components due to report second-quarter results.