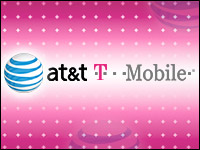 Tech giants Microsoft, Facebook, Research In Motion and several venture capitalist firms penned their support for the proposed AT&T/T-Mobile merger in a letter filed to the FCC on Tuesday, stating the increased capacity potential possible through the merger could spur innovation in the wireless marketplace.
While certain other organizations have expressed vehement opposition to the deal, stating concerns over the creation of a duopoly, companies like Microsoft and Facebook stated in the letter they hope the merger can increase network capacity.
The letter appears to be in response to service complications, perhaps due to the app-heavy iPhones and iPads that AT&T carries, that have left the wireless provider struggling to keep up with global broadband standards.
"AT&T's acquisition of T-Mobile represents a near-term means of addressing the rising consumer demand. For example, the merged company will be able to leverage a larger network of cell sites allowing greater reuse of spectrum and increasing the wireless broadband capacity of the network," the document states.
Yahoo, Oracle and Qualcomm also signed the letter, as did powerful venture capitalist firms Sequoia, Kleiner Perkins Caufield & Byers and Matrix Partners.
Facebook and Microsoft declined to provide further comment.
Future of Integration
Integration and overlapping infrastructures probably future steps in the wireless network industry.
"The traditional telecom operator model is outdated. I think we are increasingly moving into a system where there will be one or two networking companies. The bottom line is that telco business is becoming more and more a commodity business, and something in their business models will have to give in," Aapo Markkanen, senior analyst in consumer mobility at ABI Research, told the E-Commerce Times.
Companies like RIM and Microsoft, then, may be making the right decision in jumping on board with a merger, hoping it will alleviate AT&T of some of its capacity issues.
"In the future, we're likely to have one or two mobile networks that are run by joint ventures made of today's operators. Services to end-users will be delivered by service providers that lease capacity from those joint ventures," said Markkanen.
Helping or Hurting Innovation?
Not all mobile providers are in agreement. Sprint, the third largest American wireless carrier, believes the proposed deal would create a dangerous duopoly between the nation's two largest telecom companies. In a 377-page document filed to the FCC in May, Sprint petitioned to deny the merger. The company claims the vertical integration between the leaders in wireless carriers would "harm competition and consumers."
The document claims that post-merger, the combined AT&T/T-Mobile would cover about 82 million paid subscribers, giving them 88 percent of the profits from the wireless industry.
The support shown by Microsoft, Facebook and other wireless providers Tuesday did not sway Sprint's opinion.
"Yesterday's letters do not change the facts: AT&T's bid to take over T-Mobile is bad for innovation, investment and competition. Most importantly, AT&T's takeover of T-Mobile is bad for consumers — that's why tens of thousands of consumers have contacted the FCC asking to block this transaction. At Sprint, we are proud to stand with consumers in this fight for our country's wireless future," Vonya McCann, senior vice president of government affairs for Sprint, told the E-Commerce Times.
Others say that while concerns over killing competition in the wireless marketplace are understandable, increasing capacity for the largest network provider is essential, rather than detrimental, for innovation.
"All these tech companies and their scientists have a vision that this is a dynamic marketplace and their capacity in the wireless network could be fragmented without this merger, which could create a bottleneck for innovation of new services," ABI's Markkanen said.
Telecom unions such as the Communications Workers of America (CWA) tend to agree that a deal increasing capacity would benefit the industry.
"These major tech companies, like Microsoft and others, are focused on the need for more spectrum and broadband buildout because that's what makes future innovation possible and available to people. The devices people use now, like iPads and iPhones, need high-speed broadband. These companies obviously see major constraints on their ability to deploy new products, services and processes. And they know that's the future," Candice Johnson, communications director for the CWA, told the E-Commerce Times.