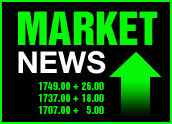 The latest salvo in the merger and acquisition boom along with some economic data that turned out better than expected helped lift stocks today.
Markets moved higher early after Circuit City revealed it was the target of a US$3.5 billion takeover bid from private investment firm Highfields Capital Management. Circuit City shares soared by nearly 18 percent on the day after the company said it was considering the proposal.
Retail Sales, Inventories
Stocks held most of their gains, with the Dow rising 46.19 points, or 0.43 percent, to 10,837.32. The Nasdaq gained 6.30 points, or 0.30 percent, to 2,089.21, and the S&P 500 finished at 1,210.12, up 3.98 points, or 0.33 percent, on the day.
Also driving buying was new data on retail sales and inventories.
Though the retail sales report showed some weakness, it came in better than forecast. Sales were down 0.3 percent in January as auto sales fell, but the overall drop was smaller than had been expected.
A separate report said inventories at U.S. businesses rose just 0.2 percent in December, according to the Commerce Department. With retail sales growing 1 percent that same month, the numbers suggest that businesses would have to increase their buying from factories and other sources in order to keep pace with demand.
Oil, Manufacturing
A third report showed that manufacturing activity in the New York area fell last month, but by a smaller amount than had been forecasts by analysts.
Oil futures were lower once again today as investors bet that a report due out tomorrow would show U.S. fuel supplies continuing to grow. Crude futures dropped 18 cents to US$47.26 per barrel in New York trading.