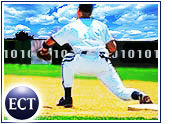 Major League Baseball's Internet unit said it has reached a deal to acquire e-tailer Tickets.com for US$66 million, a move that offers the league more opportunities to sell directly to its fan base.
MLB Advanced Media said it would pay $1.10 each for all of the outstanding shares of Tickets.com, which trades as an over-the-counter stock. Tickets.com said it had established a special advisory committee to review the deal.
While MLB said the move would be aimed at improving access to both major and minor league baseball games, Tickets.com also deals in a host of other areas, from rock concerts and comedy shows to college hockey and basketball games.
Family of Sites
"Fan attendance and their enjoyment of the games will always be a principal focus of this industry," Robert A. DuPuy, president and COO of MLB, said in a statement. "As we progress in our ticketing efforts, it is essential for this industry to set the standard for our fans, providing them with the best experience not just on the field, but getting there as well."
MLB did not immediately respond to requests for additional comment on the move and it's not known whether the non-baseball activities of the company would eventually be phased out or maintained after the acquisition. About a quarter of Tickets.com revenue, the largest portion by far, comes from baseball ticket sales.
Speculation was that MLB was eager to obtain the ticketing platform used by Costa Mesa, California-based Tickets.com for integration into its MLB.com family of sites.
The deal will require regulatory approval, which could bring more than the usual once-over given that Major League Baseball enjoys a customized exemption from antitrust laws.
Web Home Run
Regulators might also want to take a close look because the league is in the crosshairs of many politicians for failing to act soon enough to snuff out what has become a major scandal over alleged steroid use among some of its best known and most accomplished players.
Using the Web to sell more tickets would help MLB market its league in its entirety, something it has used the Internet to do well for some time. Analysts widely consider MLB.com to be the class act of the major sports leagues in terms of use of the Internet as a marketing and merchandising medium.
Baseball was the first league to centralize its Web properties under a single banner and has been at the forefront of using rich media online, offering out-of-market radio broadcasts and, more recently, venturing into streaming and downloadable video of games and highlights. Rumors have repeatedly surfaced about the MLB.com unit possibly being spun off in an IPO.
Jupiter Research analyst David Card noted in his Web log that MLB.com has long been the most aggressive of all sports leagues in attacking the Web as a revenue generator. He noted that although MLB.com also sells access to content and merchandise, tickets are its main sales engine.
While some cities and teams need no help in selling their tickets, the Web might be a means to sell more tickets to small-market stadiums, reaching tourists and others outside the market.
Seamless Experience
Tickets.com lags well behind market leader TicketMaster, which is now owned by IAC/InterActive Corp., in online sales, but still has broad reach and generates millions of visits to its site each month.
Forrester Research analyst Charlene Li said given the success that MLB has had with its Web unit, it would be unlikely to steer too far from its core business of baseball. MLB could run the non-baseball ticketing parts of Tickets.com separately, however.
The end goal is to streamline the ticket buying process and to eliminate the need to hand the sales process off to a third party provider.
"Everything that takes place on a given Web site reflects on that brand," Li told the E-Commerce Times. "The goal is to create a seamless experience, and a lot of companies don't want to risk trusting a transaction to a third party."