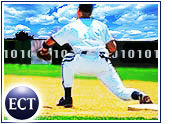 Before last spring, Major League Baseball's Internet efforts were as far-flung and varied as the league's 30 teams. And by and large, they struck out with Web surfers.
But since relaunching MLB.com in April 2001 and bringing all of the teams' home pages under one roof, baseball's Web efforts have been a game-winning home run by all accounts.
"Before we centralized, almost every club had a site," MLB.com president Bob Bowman told the E-Commerce Times. "But some were just basic brochures, and others, like the San Francisco Giants' site, were very advanced. The owners felt it was advisable economically to get everybody on the same page."
The Big Show
The results have been as impressive as a towering Barry Bonds home run into McCovey Cove.
According to T.S. Kelly, director and principal media analyst at Nielsen//NetRatings, the consolidation of team pages and acquisition of the MLB.com domain — previously, users had to spell out the league's full name to find the site — have brought the site into the major leagues.
"It was lagging both in content and traffic," Kelly told the E-Commerce Times. "But in a short time, it really brought itself to where it could really rub shoulders with the best sports sites on the Web."
In May, according to Nielsen//NetRatings, MLB.com had 6.1 million visitors. While that number still puts it behind general interest sports site ESPN.com (with about 11 million visitors) and more established sports league sites like NFL.com (which had 8.5 million visitors during its peak in-season month of January), it is a vast improvement over prior years.
Payoff Pitch
And MLB.com has done something that others have not been able to pull off: It has converted users to paid subscriptions in large numbers. The site is on track to sign up 150,000 subscribers for its menu of paid services, ranging from a US$14.95 fee for season-long live-audio access to $9.95 per month for streaming game video and access to other features.
"It's the scarcity principle," Kelly said. "They've got content that people want and can't get anywhere else. That's why they're a paid content success story at this point."
Major League Baseball might be in position to deliver a payoff pitch on e-commerce as well. Sales of team merchandise are up threefold over last year and will reach "tens of millions in sales" this year, according to Bowman.
"If I happen to be a displaced Cardinals or Houston fan, where am I going to go to buy my team's hat and shirts?" Bowman asked. "Chances are, the sports stand in my hometown is going to have a limited selection, so I'm going to turn to the Internet."
Hand in Glove
Bowman said the reason underlying the success of MLB.com is simple: Baseball is tailor-made for the Web — and vice versa.
"We've got 2,460 games in a season, 15 games every night, far more than all the other leagues," Bowman said. "It's almost impossible to use traditional media to get timely information about the entirety of baseball. You've got to go to the Internet."
MLB.com itself is based on the premise that there are two types of baseball fans, according to Bowman. Casual fans want scores and updates on trade rumors, labor negotiations and the like. Those fans prefer to get this information for free.
However, more serious fans want the ability to dig deeper into the well of statistics that makes baseball unlike any other sport.
"Stats are the DNA of baseball," Bowman said. "We've made it possible for anyone who wants to understand the real details to get them. You can find out how a hitter does against a certain pitcher from the seventh inning with men on base. It's all there for people who want to get at it."
Opportunities Ahead
Major League Baseball sees even more opportunities ahead. Already, the site gets thousands of hits from overseas Web surfers.
The rise of Japanese players like Seattle's Ichiro Suzuki has sparked interest in the Far East. Meanwhile, in South America, many poorer countries are gaining Web access faster than they can get satellite feeds of live baseball games.
"You see what's happening with basketball," Bowman said, referring to the fact that a Chinese player was the first pick in the recent draft. "If that market ever starts to open, you have a whole new world of opportunities."
Spikes and Gloves
Bowman also said fans are increasingly aware that they can get baseball news quickly on the MLB.com site. For example, fans turned to the site to read the tragic news last month that St. Louis Cardinals pitcher Daryl Kile had died in his sleep in a Chicago hotel room.
But Bowman said good news attracts visitors as well. In the 30th-man voting process to fill the final slot on the All Star team, millions of people cast votes online. In fact, NetRatings' Kelly said traffic increased more than 30 percent in a single day during the voting.
Bowman added that recently, as the Yankees battled into extra innings — a game eventually won with a walk-off grand slam by Jason Giambi in a cold downpour — traffic to the site crept higher and higher throughout the night.
"The Internet is great for us because it's a demand medium," he said. "You don't have to wait for the TV to tell you what happened. You can get it when you want it."