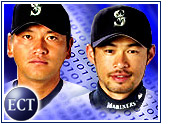 Hoping to cash in on Japan's infatuation with baseball's Seattle Mariners, Internet behemoth Amazon.com (Nasdaq: AMZN) launched the Seattle Mariners Store at its Japanese site on Tuesday.
Seattle, Washington-based Amazon is partnering with Major League Baseball Advanced Media, the online arm for Major League Baseball (MLB), on the new store.
In addition to Mariners products, including team T-shirts and caps, the site offers books, CDs, videos, and DVDs related to the Mariners and baseball in general. All pricing and content at the site is in Japanese, and orders over 5,000 Japanese Yen (approximately US$40.65) are shipped free.
Featured prominently on the store's virtual shelves is memorabilia emblazoned with the names of the two Mariners stars who have inspired Japan's passion for Seattle baseball, outfielder Ichiro Suzuki and pitcher Kazuhiro Sasaki, including No. 51 Ichiro and No. 22 Sasaki T-shirts for $22.67 each and jerseys for $76.88. The site will be open through the end of this baseball season, Amazon said.
Through Tuesday, the Mariners had the best record in Major League Baseball by a wide margin, stealing the spotlight from successful seasons by two of the sport's most popular franchises, the New York Yankees and the Chicago Cubs.
Love of the Game
Thanks to 27-year-old Ichiro and 33-year-old Sasaki, who were legends in Japanese baseball before moving to play in the U.S., many Japanese have embraced the Mariners as their favorite team, a fact that has not gone unnoticed by Major League Baseball.
In addition to partnering with Amazon to bring Mariners memorabilia to Japan, MLB.com launched live Japanese audio Webcasts of Mariners home games Tuesday night. Subscriptions to the service, which cost $14.95, are being promoted at Amazon.co.jp, while Amazon's new Mariners store is being promoted at MLB.com, the Mariners' official site, and the Mariners' Japanese site.
Japanese fans used the Internet to help propel Ichiro into last month's MLB All-Star game in Seattle. According to published reports, a significant portion of the 1,217,680 votes Ichiro received online for the All-Star game came from Japan. Additionally, for the first time ever, Major League Baseball shipped paper ballots — 5 million of them — to Japan.
Global Sports
Amazon, which also operates stores in Britain, Germany and France, believes the key to its future is a strategy of globalization and diversification.
"We continue to feel that not only in the United States do we have significant opportunity, but that we're only beginning to tap global markets," Warren Jenson, the company's chief financial officer, said at Amazon's annual analysts conference in June.
Jenson added that after only two years, international business now accounts for 19 percent of Amazon's sales.
Last month, Amazon announced that its British arm, Amazon.co.uk, had teamed up with European mobile phone provider Carphone Warehouse to offer customers pre-paid phones online.