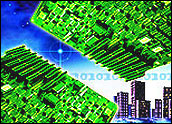 As chips are inserted into all manner of everyday appliances, from refrigerators to phones, the semiconductor industry is not the only one that will heat up. The market for motherboards, which link all the components of a computing device, including processors, chipsets, memory and peripheral cards, is likely to follow suit.
Also, unlike in the chip market, there are no clear-cut leaders in the motherboard arena — no Intels or AMDs. Instead, the sector seems to be diversifying and expanding at a rapid clip, and this trend shows no sign of slowing.
Last year, the industry suffered briefly when a batch of bad capacitors was delivered to most of the motherboard makers, turning into a public relations nightmare. Although only a small number of PCs were affected, the situation gave the manufacturers a black eye.
This year, the bruise has healed. Industry leaders are eyeing new paths for growth — and better ways to best their many competitors.
Large Playing Field
Indeed, although there are major players in the motherboard sector, such as Suse, Gigabyte, ASUS and MSI (also known as Microstar), the industry is far from dominated by a single clear leader.
Second-tier companies in the space include ABIT, Shuttle, Chaintech, Epox, AOpen, Tyan and Biostar, among others.
One reason why a single king does not dominate the hill is that the industry is split into two clear halves.
On one side are manufacturers that crank out motherboards for large companies, such as IBM and Dell — and that may have only a single customer. These companies, also known as "captive" manufacturers, command 40 percent of the market. Because of their reliance on their primary customer or customers, they are carefully controlled by those customers in terms of both design and manufacturing processes.
The Captive Trade-Off
The other 60 percent of the market consists of noncaptive manufacturers that use different chipsets and create their own motherboard combinations. Often, these companies are quicker to incorporate the latest chips and integrate newer features into their products.
Gartner analyst Martin Reynolds told the E-Commerce Times that motherboards produced by the captive group tend to sell at higher prices, but for companies that need to buy hundreds or thousands of computers, the extra cost can be worth paying.
"The trade-off is consistency," he said. "If you have 1,000 machines, you want every one of those machines to be the same — you can't have inconsistency. With companies that use different chipsets, you risk variation."
Celebrate Diversity
Another reason for the lack of a clear market leader may be that many motherboard developers do not focus solely on producing motherboards.
Drew Henry, general manager of the platform business at chipmaker nVidia, told the E-Commerce Times that each company builds other devices as well and markets them to different locations around the world.
For example, some companies may develop optical disk drives, USB devices or wireless cards, then sell those products in limited markets, such as Asia or Europe.
"Each one has a specialty, something they do different from the others," Henry said. "That's why we have to have a relationship with every one of them — because otherwise we wouldn't be able to cover all the areas where computers are used, and everything they're used for."
Location, Location, Location
However, although motherboard makers may service the entire world, there is not much variance in terms of where their headquarters are located.
Nearly all of the world's motherboard manufacturers have their home offices in Taiwan. Until recently, most manufacturing in the sector was also done in this island country. However, almost all of the factory work now has been moved to mainland China.
Political sentiments between Taiwan and China have never been what observers might call solid and friendly. However, little worry seems to exist among those who depend on Taiwan-based motherboard makers.
Henry noted that the industry's importance largely transforms political machinations into an irrelevant debate.
"The dependency of the world on these companies is huge," he said. "So many industries are serviced by the motherboard industry, and so much of the business world relies on it, that in a way it provides political stabilization just out of necessity. The issues that exist politically are almost at a different level."
Growth Chart
Indeed, despite the wealth of competition in the field and the lack of geographic diversity among manufacturing plants, motherboard makers seem to be flourishing.
In part, they thrive because innovation has kept the industry well stocked with new chips. Also, motherboards can be cranked out at a steady and speedy pace, resulting in a wide array of fresh products.
Jeff Klaus, a manager in the software and marketing programs group at Intel, told the E-Commerce Times that the number of different types of motherboards available has broadened in the past year due to a rise in chipset features. The logistics of keeping track of so many products can be a challenge, he said, but not a dire one.
"We're really embracing the advancing technology," Klaus added. "It's all about getting a better time to market and more capability."
Can the motherboard industry remain prosperous? Go on to Part 2.