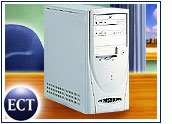 For many businesses, the allure of no-name PCs, called "white boxes" in industry parlance, can seem almost irresistible. Today's typical white boxes are equipped with industry-standard Intel motherboards and processors, avoid the software incompatibility that used to plague even makers of name-brand PCs, and are usually cheaper than their branded counterparts.
But if no-name hardware is such a bargain, why are so many businesses sticking with well-known OEMs, such as Dell and HP? Which types of organizations typically choose white boxes — and when does it make sense for a company to consider doing so?
Not Industry
Forrester analyst Rob Enderle told the E-Commerce Times that companies that go the white-box route cannot usually be identified by industry, although there are exceptions: Many manufacturing and food companies buy no-name computers.
In general, however, the background of the IT department within a company determines whether or not it will turn to white-box vendors.
"If there is a lot of internal talent within that IT structure, [the employees] can finish that last step of quality control" required when buying unbranded computers, Enderle said. "[Most of them] believe what they're getting is generic anyway."
Steve Goldschein, senior vice president and CFO of Systemax, a large white-box vendor, agreed, telling the E-Commerce Times that a skilled IS (information services) manager can reap attractive gains by eschewing name brands. Such a manager can either spend less for equivalent hardware or get more value for the funds allotted.
Size and Risk
Enderle noted that mid-tier businesses in close geographical proximity to a white-box vendor are also good candidates to purchase generic hardware. In such a scenario, if problems occur, the vendor, which generally takes responsibility for parts and replacement, is accessible.
However, Gartner analyst Mikako Kitagawa told the E-Commerce Times that many mid-size companies may shy away from no-name vendors out of concern that those vendors' survival is not guaranteed. By contrast, it is virtually certain that large OEMs like IBM and Dell will endure.
"You don't want to go with a company that, in a worst-case scenario," goes out of business, Kitagawa said. "What happens when a [white box vendor] offers a three-year warranty this year but is gone next year?"
Enderle noted that IT purchasers should conduct background checks on white-box vendors to determine their financial viability before inking deals with them.
Price and Size
If a company can find a good white-box vendor, the benefits are tangible. Goldschein said the average price of his company's PCs is 10 to 15 percent lower than that offered by competing name-brand OEMs because his company has less advertising overhead.
However, Kitagawa said the price difference between white-box vendors and well-known OEMs is becoming increasingly negligible, at least for larger enterprises. After all, large enterprises usually ink deals with OEMs that effectively lower the overall price of their purchases.
Still, she added, white-box vendors remain a good option for small companies and organizations.
"A small school district or a private school might need 10 PCs, and they can't get the better price [from name-brand OEMs] that the larger companies get," she said. "Then [the white-box vendors] are a good fit because the school can ask them for a specific solution."
Flexibility and Quality
Enderle confirmed that white-box vendors often provide flexible options and configurations that larger companies cannot offer. For example, businesses with specific needs can request a combination of hardware components and software that addresses those needs.
However, he cautioned, any company that buys computers from a white-box vendor must be comfortable with the quality of that vendor's products and should expect to handle the quality-assurance process, which is often taken for granted when buying from name-brand vendors.
If a company is prepared to work a little harder, it probably can save a little money by buying white boxes. It is up to the IT chief to decide whether or not that is a good tradeoff.