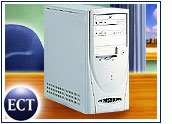 If you woke up tomorrow and read in the news that Everex had edged out Systemmax in the PC market, your first question might be: Who? Yet every year, millions of buyers in business, government and private homes purchase desktop computers from white-box vendors that possess a mere fraction of the marketing power of Dell or Hewlett-Packard.
In fact, research firm IDC has estimated that last year, about 31 percent of the 35 million desktop PCs sold in the United States were white boxes cobbled together by small vendors — a motherboard from here, a processor from there.
Despite a lack of promotion and poorly chosen monikers, it is becoming increasingly clear that tiny vendors, such as GPC Computing, are an important part of the personal computer ecosystem. And contrary to what one might assume, a white-box purchase does not necessarily equal a clunky system. So, what does the murky world of white-box systems hold for would-be buyers?
Your Mileage May Vary
White boxes built from standard components and tailored to customers' specifications are a vital part of not only the overall PC market, but also — and especially — the market that caters to small and medium businesses (SMBs). A recent note by Merrill Lynch hardware analyst Steve Milunovich cited a survey by Computer Reseller News that showed white-box vendors made the most dramatic gains in PC sales in February.
But some may have misgivings about the systems produced by these tiny companies. Do they meet the rigorous compatibility standards that PC giants like Dell and HP tout to enterprise customers?
"The thing that concerns me is not just that [a white box is] made from inferior parts, hasn't been burnt in, but also it's not consistent," said Galen Schreck, who covers the server hardware market for Forrester Research. Schreck told the E-Commerce Times that incompatibility is the norm in the PC business. Even different models of Dell machines have subtle variations in BIOS, motherboards and processor chipsets that make installing software on various computers a headache, he said.
And if this is a problem with computers made by a single manufacturer, it may be worse with white boxes, which are produced by tens of thousands of vendors around the world. In fact, below a bottom-tier PC vendor like Micron, which sells just 192,000 desktops, you will not find PC vendors with large numbers of sales.
"Companies that want to install a disk image on fleets of PCs will have a hard time with machines that vary so much," Schreck noted. It is only the hard work of certifying compatibility on the part of name brands such as Dell that makes it possible to keep the chaos in order, he added.
The Usual Suspects
On the other hand, IDC senior analyst David Daoud said that although small vendors may have a hard time assembling servers because of special requirements and compatibility issues, most white-box sales are in the desktop PC arena, where standards ensure most things should work. "The components are all standardized, and what's going into these systems comes from the usual suspects — one or two chip vendors for the processor, one or two vendors for the disk drive, such as Seagate, Western Digital, et cetera," he told the E-Commerce Times.
Indeed, consolidation of the microprocessor market around Intel and AMD is echoed in other parts of the industry. Shane Rau, a core logic analyst with IDC, pointed out that the market for chipsets that support networking, memory and peripherals for the processor is heavily concentrated among a few vendors.
Intel had roughly 55 to 60 percent of the market in 2002, with second- and third-place vendors VIA and SIS (Silicon Integrated Systems) making up 20 to 25 percent and 15 percent, respectively. And of the 140 million or so PCs expected to be sold this year, four motherboard vendors make up 50 percent of the global market: Asustek, Gigabyte, MSI and ECS.
What is more, Daoud said, component vendors have established numerous programs to aid white-box makers. Sometimes these programs consist of kits a vendor can assemble, while others are just specifications that note which parts are optimal for a certain kind of machine. Intel has at least three programs, including, most prominently, its Innovative Technology Provider Program. AMD has two of its own, and ATI touts the quality ratings it gets from white-box vendors that have used its program.
Everyone into the Pool
Component vendors are not the only ones reaching out to the white-box market. Some PC giants, such as HP, also are dipping a toe into this retail pool. Custom computers sell through a variety of local and regional resellers on each continent. This means a government office that is buying PCs may go across the street to a local mom-and-pop shop that can provide just what it wants, plus support, rather than calling Dell. Given that reality, many vendors see entering the white-box market as a strategic move.
"Intel has to do this to get its technology into the channel, but HP and other system vendors are also interested because so much of the public-sector sales go to the white-box market," IDC's Daoud said. Citing white-box makers' strongholds in the government and education markets, he noted that it makes sense for HP to offer discounts on printer products to white-box partners.
Difficult Choices
In the end, the decision whether or not to buy a white box remains difficult because there are two sides to this argument. In a world coalescing around a few big PC vendors, as Forrester's Schreck said, standardizing on one or two well-known brands may help an enterprise avoid confusion when managing a large IT shop. However, as Daoud's explanation of the component market suggests, vendors are helping to beef up stability of white boxes, making them a better choice than ever before.
Moreover, Merrill Lynch's survey showed that gains by Dell and Hewlett-Packard in the last year or so have come at the expense of second-tier computer makers such as Micron, not at the expense of white-box vendors. So far, it seems, white boxes as a class are holding their own.
Go on to Part 2.