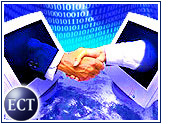 Perhaps bowing to a sluggish PC and hardware economy, Hewlett-Packard (NYSE: HPQ) on Thursday announced plans to move to a direct sales model for more than 2 million small businesses.
Previously, such a model had been reserved for the company's largest enterprise customers. In fact, this initiative marks the first time HP has specifically targeted small businesses as customers.
The company said it will release a quarterly catalog that will feature PCs, notebooks, servers, handheld devices, storage, software and services. HP vice president Robyn West noted that the catalog format is a "flexible resource" that best displays the combined products of HP and Compaq.
The company last year began selling directly to its largest customers in response to increasing dissatisfaction among its resellers. And though HP now is expanding its direct sales activities, the company said it will continue sales via resellers.
Compaq's Direct Sales Push
According to Roger Kay, director of client computing at research firm IDC, HP's move to direct sales can be partially credited to Compaq's strong pre-merger direct sales model.
"Compaq brought with it some decent direct capability and had high sales in direct business for North America. They had been increasing their direct business right along," Kay told the E-Commerce Times.
At the same time, the sales model shift also will help the company's bottom line, he noted. "The economics have been clear for a long time: Direct saves you some [money] and makes you more competitive, and that's one of the reasons Dell (Nasdaq: DELL) has been taking share pretty dramatically."
Small-Biz Market 'Difficult'
But HP's latest move is by no means a guaranteed win. The small-business market has been among the most difficult for name-brand computer manufacturers to conquer. PC giants are hindered in part by the prevalence of so-called "white boxes" — unbranded PCs that are usually sold by local computer vendors.
A recent IDC study showed that vendors of unbranded PCs accountfor 58 percent of the total worldwide PC market. According to the research firm, small businesses may be drawn to purchase white boxes because they desire local technical support; most small businesses do not have in-house IT support.
In order to compete with increasing demand for white boxes, Dell released its own unbranded PC last month, the 510Z, which retails for US$499 without a monitor.
Catalog Format Works
Additional factors that make marketing to small businesses difficult, Kay noted, are the group's diversity and varying IT needs.
For example, dentists' offices, auto body shops and law offices do not read the same publications, Kay said, so a catalog is the "right way to reach that group. It's hard to target that population with any one thing in particular.
"Dell has done really well with catalogs," he added. "Until recently, that's been Dell's primary way of getting at the smaller end of the market — consumers and small businesses."
HP was unavailable for comment at press time.