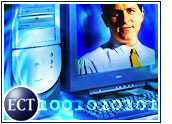 For the quarter ending August 2nd, Dell expects its revenue to reach US$8.3 billion, up about 9 percent from last year's second quarter, while earnings are expected to increase by 19 percent.
Analysts agree that Dell's build-to-order model for selling PCs and servers not only works well for current market conditions, but also is likely to keep rivals chasing the company for the foreseeable future. Still, the company must overcome some potential long-term hurdles as it seeks to boost its customer base and fend off challengers.
"All of its competitors are trying to beat Dell at Dell's own game," Aberdeen Group chief research officer Peter Kastner told the E-Commerce Times.
But Kastner said rivals have found it hard to top Dell's strategy, which entails cutting costs by keeping inventory low and preventing the problems presented by unsold, obsolete products gathering dust on shelves.
Capturing Market Share
This build-to-order model has worked not only with PCs, but in other segments where Dell has been capturing market share, including servers, workstations and notebook computers.
In an atmosphere in which cutting spending remains a major competitive factor, Kastner said, Dell is poised to ride out tough times while positioning itself for the recovery, when corporate IT investment increases.
"They're able to move the throttle much more quickly than the competition," he noted.
According to Dell spokesperson Mike Maher, the build-to-order model scales well to products beyond consumer PCs. He said the company has positioned itself to offer enterprise-customized products at low prices by aggressively cutting internal operating costs.
"The current economy is a tough one, but we have been able to improve business while cutting expenses to all-time lows," Maher told the E-Commerce Times. "It's made us become more efficient, and we're a better company for it."
Cost-Cutting Pays
The Austin, Texas-based computer giant is continuing a drive to cut more than $1 billion in operating costs during the current fiscal year. Combined with strategic pricing moves over the past two years that have pressured its rivals, the results have been convincing.
CEO Michael Dell recently told shareholders that Dell's second quarter will mark the sixth consecutive quarter in which the company has met or exceeded its operating expectations. The company is scheduled to announce full results for the second quarter and to provide guidance for its fiscal third quarter on August 15th.
Maher said the success of Dell's custom-build strategy in the server and workstationarenas will give the company a solid basis to make further inroads among enterprise users. With its current business model, he said, Dell is poised to respond effectively when an IT investment rebound occurs.
"It puts us in a better position to benefit customers and shareholders when spending eventually increases," Maher said.
Kinks in the Armor?
Experts note that while Dell will likely remain strong for the time being, especially as long as price remains king, some kinks in its armor could reveal themselves as the ailing PC industry recovers.
One challenge could come in the storage equipment market. Gartner research director Mark Margevicius said the need for customized configurations in storage is not as great as in other technology segments, which could make it tougher for Dell to stand out.
Also, if a time comes when PC demand suddenly exceeds supply and component costs spike significantly, the advantage might go to PC vendors that have large inventories on hand, Margevicius told the E-Commerce Times.
He added that Dell also lags behind rivals HP and IBM in consulting services, and its administrative structure does not extend beyond North America. This could hamper Dell as it seeks to expand into countries like Italy — which insists on dealing with companies that have a local or regional presence — and to attract new business in Africa and Asia.
Strategy Shifts
Dell's Maher said the company has plans in the works to beef up its global presence and its service offerings. He pointed to Dell's recent acquisition of New York-based Plural, which specializes in technology consulting and applications development.
Looking ahead, Dell might need to tweak its marketing to bolster its enterprise presence.
Giga Information Group research fellow Rob Enderle said the company has struck it rich on the consumer side with advertising catch phrases like "Dude, you're gettin' a Dell." But that approach might not play as well with IT decision makers.
"Their 'Hey Dude' campaign actually lowers the value of their brand in the corporate market, because the messaging is extremely counter to what an IT buyer expects to see in a corporate product," Enderle told the E-Commerce Times.
Beyond the Dude
While the low-price, build-to-order approach is ideal for current market conditions, Enderle said, Dell might eventually need to establish a premium product line that appeals to customers looking beyond cost.
In the long run, Enderle added, attaining the next level might also require Dell to separate its consumer and business product lines more effectively, in much the same way that such large corporations as GM and General Electric have done.
"Dell is reaching the point where they can aspire to be the next IBM, but they will have to become a different company to get there," he said.