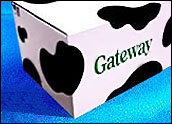 Following a second-quarter loss that reportedly was mediated by the effects of an aggressive pricing strategy, PC maker Gateway has announced it will knock another $100 off the price of its desktop and mobile computers.
Specifically, Gateway said it will reduce the prices of its 300SE and 500SE desktops and Solo1450SE notebook in an effort to boost shipments in a sagging PC market. The San Diego, California-based company also said that it will offer a free copy of Microsoft Office bundled with many of its PCs.
More for Less
While analysts said the current price competition among chipmakers has made newer technology available without a corresponding increase in price, Gateway said its cuts will give users more for less.
The company is cutting the cost of the 300SE desktop, which has a 1.4 GHz Intel Celeron processor, 128 MB of memory and a 20 GB hard drive, from $700 to $600. The more powerful 500SE — with a 1.8 GHz Pentium 4 processor, 17-inch monitor and free upgrades to CD burner — will drop from $800 to $700.
On the notebook side, Gateway is cutting the price of its Solo 1450SE, which has a 14.1-inch display and a DVD player, from about $1,100 to less than $1,000. The Gateway 450 notebook with a 1.6 GHz Pentium 4 processor and a CD burner will sell for $1,500, the company said.
Looking To Lead
Gateway spokesperson Ashley Wood told the E-Commerce Times that the company was able to grow its revenue between the first and second quarters of 2002 because of its pricing position.
"That is not typical for the market," Wood said. "It was definitely [pricing] combined with new product offerings."
She added that Gateway's goal is to be the PC industry leader in terms of both price and technology, noting, "As long as we're leading the way and others are following, that's fine."
Missing Their Mark
Gartner analyst Charles Smulders told the E-Commerce Times that Gateway is making good on its February vow to be a PC price leader.
However, Smulders noted, the company previously had said it needed to ship 1 million units per quarter to meet its own expectations, but most recently it has managed only 651,000 units.
"They need to focus on driving up shipments and continue to be aggressive on pricing," said Smulders, who added that Gateway is likely to reduce costs through layoffs or spending cuts unless it can increase shipments during the second half of this year.
Attractive Alternative
While he described PC profit margins as "razor thin," Smulders said price cuts are an inherent feature of the industry because of the need to move inventory. "What you cannot afford to do is hold on to inventory," Smulders noted. "If you do, you're doomed."
He added that Gateway is suffering because of its focus on desktop PCs and on the consumer market, both of which have been hurt by current economic conditions.
"They're waiting like the rest of the industry for a consumer recovery to lift PC demand, which is unlikely until we see an economic improvement," he said.
Dude, You're Cutting Prices Too
Gateway's Wood told the E-Commerce Times that the company will launch its cross-media, back-to-school marketing campaign next week, adding that it will be "a little departure from the rest of our advertising."
Whether or not that indicates a Dell-like "dude" campaign remains to be seen, but Gartner's Smulders said Dell is likely to make similar price moves to maintain demand.
"[Dell] created a significant price war in the first quarter of 2001," Smulders said. "I would expect them to continue to be aggressive going forward. If they see a slowdown in demand, they will cut prices accordingly."