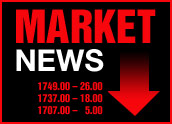 The Federal Reserve today did as most observers expected and raised interest rates for the seventh straight time, and even though the move came as little surprise, it was enough to send stocks lower.
The Fed's quarter-point boost to the overnight rate and its adherence to a policy statement of "measured" rate hikes going forward came as stocks had rallied most of the session on a good wholesale inflation report.
Inflation Pressure
However, the Fed's action sent stocks sharply lower. The Dow lost 94.88 points, or 0.90 percent, to close at 10,470.51. The Nasdaq fell 18.17, or 0.91 percent, to 1,989.34, and the S&P 500 Index shed 12.07 points, or 1.02 percent, to finish the turbulent session at 1,171.71.
Market watchers blamed the Fed's statement for precipitating the plunge. The Fed's release said in part that "pressures on inflation have picked up in recent months and pricing power is more evident."
Earlier in the day, inflation-obsessed investors got a dose of good news in the form of a mellow reading on wholesale prices that briefly sparked buying on Wall Street.
The Labor Department said that the Producer Price Index, which measures prices at the wholesale level, rose 0.4 percent in February, with the vast majority of the increase tied directly to fuel costs. The core rate, which excludes both energy and food prices, rose 0.1 percent, which was in line with most economists' forecasts.
Oil Prices
Oil prices did retreat today, but analysts cited profit-taking ahead of the latest inventory reports due tomorrow. Crude futures fell US$1.43 to close at $56.03 per barrel on the New York Mercantile Exchange today.
Meanwhile, the steady parade of mergers and acquisitions continued, with Oracle saying it had beat out German rival SAP and consummated at deal to buy Retek, which makes software for the retail industry, for about $670 million.