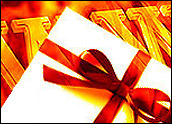 In part 1 of this story, the E-Commerce Times looked at how Web sites are gearing up for the holiday buying season by beefing up staff, servers and warehouse operations.
Most strikingly, Ritz Interactive CEO Fred Lerner told the E-Commerce Times that this year, the company gave most of its employees pagers and put them on call. If there is a problem with RitzCamera.com in the middle of the night, shoppers will not have to suffer for long.
Beyond making e-business infrastructures holiday-ready, though, e-commerce firms also have been busy crafting deals and finding ways to stand out from the pack. Now that sites are stable and customer-service departments are fully staffed, what are e-tailers doing to lure holiday shoppers so that their traffic will spike as planned?
Fresh Plans
Because many e-tailers have been through a few holiday seasons by now, they have learned what works, what does not and what can be improved. For apparel seller Bluefly.com, progress this year has come in the form of gift certificates.
Jonathan Morris, Bluefly.com executive vice president, told the E-Commerce Times that technology issues have prevented the site from offering gift certificates in the past, but those hurdles have been cleared. Now, the site is eager to find out how the certificates will perform.
"I think that last-minute shoppers will definitely appreciate it if they've missed the shipping cutoff," Morris said. "Also, customers who don't know what to buy for gifts will take advantage of it."
Branching Out
New technology has enabled other e-tailers to expand operations as well. At Ritz Interactive, for example, a switch to IBM's WebSphere software has allowed the company to go beyond its original RitzCamera.com domain.
The company now maintains 10 shopping sites, including CameraWorld.com, Wolf Camera, Photo Alley and Photography.com.
It also has forged a deal with golfer Greg Norman, who has proven to be quite savvy in selling clothing through his Shark.com site.
"Most businesses are one-trick ponies," Ritz CEO Lerner said. "But we wanted to add stores seamlessly, so it required technology like WebSphere to do that. To add a store to most e-commerce engines requires a rather large effort. So, bringing on high-powered technology to do that is a given."
Toy Story
E-tailers also have learned that with a wealth of products available across the Web, it helps to be distinctive. Buy.com has worked to differentiate itself in the past few years by inking deals with vendor partners like Hewlett-Packard and Fuji for products to be sold only on the Buy.com site.
This year, the e-tailer has put its weight behind its new toy store, which was announced in early November to take advantage of the holiday season's kickoff. Larissa Hall, vice president of Buy.com, told the E-Commerce Times that the new store will feature more than 3,000 products and will includea powerful search tool that lets shoppers find items by age, price range, gender, category or specific brand.
Sticking to its partnership strategy, Buy.com has teamed up with KBToys on the new effort. Although it might seem that this alliance could put KBToys in danger of losing customers to Buy.com, Hall said the partnership actually will boost holiday sales for both companies.
"We'll be reaching new customers that wouldn't be going to the KBToys site," she said. "The demographics are complementary, not identical."
Indeed, thanks to the combined muscle of the two companies, Hall is confident that Buy.com will have a more robust offering for shoppers this season, which will be reflected in year-end revenues.
Compare and Contrast
Even the largest e-commerce players have been spiffing up their standard offerings to make sure there will be no coal in their stockings come holiday time. For example, Yahoo recently relaunched the shopping portion of its site with much more powerful comparison-search capabilities.
"Consumers understand that the Web is valuable for comparing items side by side," P.K. Van Deloo, brand manager for Yahoo Shopping, told the E-Commerce Times. "We did a lot of research before launching this, and we found that consumers wanted another vehicle for searching, beyond a generic search engine."
The result is SmartSort, which lets consumers search for products based on different criteria. Whereas one shopper may want an inexpensive digital camera, another may be more interested in a light and portable one. By ranking what is important to each shopper, SmartSort can display more relevant results.
"We wanted to get it out before the holidays because we think it will really add to the user experience," Van Deloo said. "It's a very dynamic way to search the Web, and we think shoppers will appreciate that."
As gift-buying crunch time approaches, e-tailers are hoping analysts' predictions for a rosy two months will prove correct. If they do — and especially if the economy continues to recover in the new year — the 2003 holiday season will be greeted with good cheer and great relief.