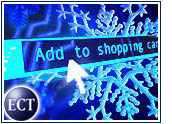 Consumers are gearing up for another strong online holiday shopping season, but they continue to express concern about the security aspects of buying via the Web, according to a survey commissioned by the Business Software Alliance (BSA).
The BSA said the survey, conducted by Ipsos Public Affairs with 4,000 consumers in four countries, found that more than 63 percent of consumers in the United States will do at least some Internet shopping this holiday season.
Still, about three-fourths of all U.S. shoppers surveyed said they are concerned either a "great deal" or a "fair amount" about a host of security issues. For instance, 83 percent said they are worried about having their information stolen by a third party during a transaction, 79 percent expressed concern that their private data could be pilfered from a Web-connected database, and 76 percent worried about disclosing their credit-card number at all.
Seventy-two percent also said they are concerned that shopping online will result in a flood of unwanted e-mail spam.
Concerning Trends
"It's logical to think that some commerce is being held back by these concerns," BSA vice president for enforcement Bob Kruger told the E-Commerce Times, adding that if consumer worries were addressed satisfactorily, "it does seem likely that online shopping could be occurring and growing at an even greater level."
Consumers are constantly reminded of the dangers of shopping online, Kruger noted, by news stories that highlight alarming spikes in the amount of identity theft taking place and in the number of database breaches in which personal information — in some cases even credit-card data — is exposed.
He said identifying how consumers feel about such issues is "very timely and relevant from the standpoint of our members" for two reasons. Firstly, many software makers are eager to move more of their sales and distribution online to capture cost savings, and secondly, the BSA is increasingly involved in online security and privacy issues.
Joint Effort
Kruger said the BSA will work with the Better Business Bureau to help educate consumers about ways to protect themselves as they shop online.
"Our mantra has always been that there is shared responsibility with all parties," he said. While software makers often work with law enforcement to protect their intellectual property, Kruger noted that he also is eager to see stringent policies implemented by third-party software merchants and auction sites to help ensure consumers are buying the real deal.
The survey suggests piracy will continue to be a problem because consumers are on the lookout for bargains. While a majority of shoppers are significantly concerned about getting genuine software and not a pirated copy, many are still sensitive to lower-priced offers.
Even so, Americans remain the most confident online shoppers, the survey found. While 63 percent of U.S. shoppers said they will venture online this holiday season, just 36 percent of their counterparts in the United Kingdom plan to do so, and the percentages are even lower in Mexico and Japan.
All Together Now
Other researchers are predicting an even more robust holiday season for e-commerce than the BSA is. Forrester Research recently forecast a vigorous 42 percent growth rate for holiday sales, with more direct competition than ever between e-commerce and traditional retail channels.
For its part, Jupiter Research has estimated sales will grow 21 percent this year over last, to $17 billion. That firm's survey said confidence in the security aspects of online commerce is growing, with just 36 percent of surveyed consumers saying they are worried about providing credit-card data online, compared with 47 percent last year.