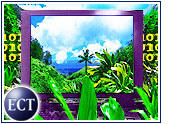 Amazon.com beat earnings expectations in its third quarter and predicted another record-smashing holiday season, but the e-tailer's relatively subdued forecast for 2004 raised renewed worries about the valuations of many Internet-sector stocks.
Sales at the Seattle, Washington-based company grew 33 percent from last year to US$1.13 billion in the quarter, helping Amazon post earnings of $16 million.
The strong quarter, driven by overseas sales that grew more than 60 percent, points to a boisterous holiday season, CEO Jeff Bezos said in a statement. The company said it will book fourth-quarter sales of as much as $1.91 billion, up as much as 34 percent from 2002, when the current sales record was set.
"We expect more customers to turn to us for their holiday gifting needs this year — producing our biggest holiday shopping season ever," Bezos said.
While Amazon predicted steady growth into 2004, with sales for the entire year expected to reach as high as $6.25 billion, the forecast chipped away at what had become strong optimism about Amazon and other Internet stocks.
Spoiled Rotten?
Investors, who may be used to seeing Amazon soar easily past estimates, quickly shaved more than 6 percent off the company's shares in early trading Wednesday, sending it falling to $55.49. Amazon shares have again become an investor favorite in recent months, helping the stock climb from a one-year low of less than $20 to a 52-week high of more than $61.
Amazon has enjoyed a spillover effect in recent weeks as Yahoo and other Internet firms reported strong earnings and outlooks.
However, Morningstar.com analyst David Kathman said the ability to sustain growth has always been a major concern for Amazon, more than for many other Web stocks, because the e-tailer relies on robust growth to drive earnings and keep it from slipping back into the red.
"Amazon needs to keep growing its customer base and its order size in order to get to where it can consistently show a profit," Kathman told the E-Commerce Times.
While the company's price cuts and free shipping on orders of more than $25 have helped rekindle growth in the core books, movies and music areas, and overseas expansion also has helped, those who follow the stock closely remain concerned about how well Amazon would fare without consistent double-digit sales expansion, Kathman noted.
Conservative Tie
In a conference call, CFO Tom Szkutak said Amazon is taking a "conservative" approach to next year's outlook, given the uncertainty that remains.
"It's very difficult to get visibility out that far," he said.
Growth concerns long ago supplanted worries about Amazon's long-term debt position, though that remains an issue. Amazon's long-term debt, which can fluctuate considerably based on exchange rates and other factors, stands at about $1.2 billion.
The company has made several recent moves aimed at keeping its sales expanding, including forming a separate but wholly owned subsidiary to develop and implement shopping-specific Web search techniques.