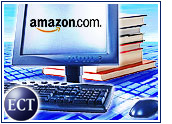 Apparently recognizing the same market opportunity as the major search players, Amazon.com has moved to establish a wholly owned subsidiary that will work on ways to use search to drive shoppers to its site.
According to the company, Udi Manber, a former Yahoo executive hired last year, will oversee the venture known as A9. The company will be based in Northern California and is moving quickly to hire as many as 30 employees in the backyards of search leaders Yahoo and Google.
A9's goal will be to develop search software and technology, ensuring Amazon is not cut out of the loop as shoppers increasingly turn to search engines to find exactly what they want online. The e-tail giant will use the technology itself and also will seek to license it to other retailers, as it does other functions of its e-commerce platform.
Changing Customers
Although Amazon has succeeded in positioning itself as a shopping portal by selling everything from kitchen appliances to sporting goods with the help of a score of high-profile partners, its latest move still may be a hedge against the ever-changing behavior of Web surfers.
"People initially favored the category sites and then gravitated toward familiar sites where they knew how to navigate, which was a big boost to Amazon," Nielsen//NetRatings senior analyst Lisa Strand told the E-Commerce Times. "But as they get more and more sophisticated, they turn to search because they've learned they can get exactly what they're looking for much quicker."
That behavioral shift has been accelerated by advances in search technology spurred on by vicious competition and a recent consolidation spree, Strand added, as well as broadband adoption and other factors that have made the online experience more about speed and precision than browsing.
Convergence Ahead
Analysts see the Amazon move as a defensive one as well as a recognition that traditional search was designed to find information, not necessarily products.
Just this week, Yahoo rolled out a massive upgrade of its search and shopping features designed to more closely integrate the two, using paid keyword search technology from newly acquired Overture as well as Google-like algorithmic search technology to produce richer results for shoppers.
The Yahoo upgrade also includes a host of features, such as product comparison and user reviews, that have been among the most popular attributes of Amazon's site since the Seattle, Washington-based e-tailer rose to dominate pure-play e-commerce.
Amazon's move comes as rumors persist that Microsoft is considering making a big splash in the search world, either by improving its own MSN search or possibly acquiring an existing company.
Expansion Continues
For its part, Google executed another part of its international expansion strategy this week, opening its 21st worldwide office in Madrid, Spain.
Google, which already ranks as the most-used search engine in Spain, also said it now has 150,000 advertisers in its AdWords paid-listings program.