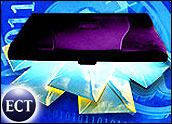 Amazon.com has sued 11 entities in the United States and Canada for forging its domain name in their e-mail spam messages, the company has announced. The lawsuits represent the latest salvo in Amazon's fight to suppress and eradicate such spoofing.
The company filed suit in seven U.S. federal district courts and in the Ontario Superior Court of Justice in Canada, seeking millions of dollars in punitive damages as a deterrent to other spammers. Companies cited in the legal action include Rockin Time Holdings and Matrix Consulting Group LLC, both sellers of "Gain Pro Penile Pills"; several unidentified defendants hawking human growth hormone through Healthproductsnow.net; Cheapfilter.com, seller of a pay-per-view scam device; and GrantGiveaways.com, purveyor of "Free Cash Grants, Never Repay."
"The actions taken today by Amazon.com and by the state of New York will send a strong message that [this conduct] will not be tolerated," David Zapolsky, Amazon vice president and associate general counsel, said.
After all, although Amazon has expanded its offerings over the last couple of years, the company has yet to begin selling human growth hormone, free cash grants or devices that allow users to receive free pay-per-view channels.
Untarnished Image
Gartner research director Maurene Grey told the E-Commerce Times that Amazon potentially has a lot to lose from a credibility perspective because the accused spammers all allegedly infringe on its integrity.
Amazon "is purely an e-commerce site, where credibility is paramount," Grey said. "Everyone is afraid of doing business on the Internet … and so Amazon needs to untarnish its name and let the public know, 'That's not us. That's a bad spammer.'"
She added that although the new lawsuits probably will not stop spammers in their tracks, they will give Amazon a means to publicize that it is a good corporate citizen doing all it can to protect its customers.
"Spoofing is a problem faced by any company with a trusted domain name that uses e-mail to communicate with its customers," Amazon's Zapolsky said. "It's not just spam. It's consumer fraud."
Not Just Amazon
IDC research manager Jonathan Gaw agreed, telling the E-Commerce Times that spammers do the same thing to Yahoo and many other companies.
"The nice thing with this lawsuit and with spoofing in general is that Amazon is [relying on] enforceable law," he said. "It's commercial fraud. It's different from the anti-spam laws, which haven't been tested. [Legislators] haven't determined where free speech ends and illegal activity begins."
However, Gaw added, Amazon's lawsuits and others of this nature will not turn back the tide of spam and spoofing. Most likely, it instead will push that activity offshore. In fact, he said he sees nothing on the near horizon that could dramatically reduce overall spam volume.
New York State of Mind
In conjunction with Amazon's announcement, the New York Attorney General's Office announced it has settled civil fraud charges with Brooklyn-based appliance retailer Cyebye.com, one of the organizations cited in Amazon's complaints.
Cyebye was advertising its home appliances via e-mails that purportedly came from "Amazon.com ([email protected])." The agreement requires Cyebye to maintain records of all its commercial e-mails over the next two years and to pay the State of New York US$10,000 in penalties.
According to Amazon's press release, Cyebye and Amazon also have reached an agreement compelling Cyebye to pay Amazon punitive damages and prohibiting Cyebye from sending any e-mail that includes the Amazon.com name in any form unless it receives express permission from Amazon.