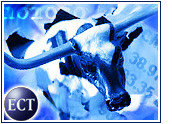 All hail King Harry. When Harry Potter and the Order of the Phoenix was released, Amazon.com shipped out more than a million copies, making it the largest one-day distribution of a single item in e-commerce history.
Although e-commerce has not had a particularly long life, there are plenty of other records it also can claim.
Taking into account the tech bubble's burst, not all of those records are positive, but most of today's milestones show that e-commerce is here to stay and is growing at a strong pace. What are some of these notable statistics?
History Lesson
Markers of e-commerce success can take many forms, so for a company that is looking to establish a record, it is not difficult to find a shining moment.
For example, when U.S. Web use rose from about 100 million surfers in 2000 to more than 115 million the next year, it was hailed as a positive record at a time when the dot-economy was still shaky.
Last October, just before it was acquired by eBay, PayPal announced a record number of account holders, 20 million — double the number it had the year before.
More recently, U.S. e-commerce sales totaled US$12 billion in the first quarter of 2003, representing a more than 25 percent year-over-year increase and setting a record for a nonholiday period.
Trading on Events
Many e-commerce firms have found that records are easier to achieve if they can leverage seasonal buying or major events. After all, without Harry, Amazon would have been hard-pressed to hit that million-in-a-day mark.
Likewise, developers of tax software no doubt were pleased this year when the number of people filing online hit an all-time high. Intuit reported that more than 20 million federal and state tax returns were filed electronically using its products, a 19 percent increase from last year.
In a somewhat cheerier example, many e-tailers likely will aim to make history when gift-giving season rolls around this fall. After all, e-tailers saw record sales last year as consumers spent $7.92 billion in November and December, when the economy was sputtering even more than it is now.
Regulation also can affect records, as the battle surrounding music file-sharing demonstrates. As the music industry has cracked down on file swappers, Apple has been propelled to new heights, with more than 1 million songs sold through its iTunes Music Store in its first week of operation. That success likely spurred another record: The company sold more than 300,000 iPod MP3 players in its most recent quarter.
Darker Days
Not all e-commerce records are positive affirmations, however.
In January 2001, for example, there was a record number of dot-com job cuts compared with the year earlier. Later that year, job cuts in May were triple those recorded in April, and the e-commerce job scene seemed utterly bleak.
Prior to that came a record number of dot-com closings and stock losses.
"There are so many negative records from that time," Aberdeen Group analyst Kent Allen told the E-Commerce Times. "It's nice to see that turning around now, with records like Amazon's. Having positive records now is a relief."
Bragging Rights
Use of records is often viewed as a PR and marketing tactic to focus attention on a company, but limelight-seeking is only one of many reasons to cite a statistic.
For example, IDC analyst Jonathan Gaw told the E-Commerce Times that Amazon's high watermark was pretty impressive — and not just in terms of shipping capabilities.
"It builds a reputation for them," he said, "and that's important, because there were probably some people who went to the site who hadn't shopped there before. So, they got a chance to get used to buying there, and they'll probably go back. Every little bit counts."
Also, there is a certain satisfaction in trumping competitors. Although it is pleasant to hear about competing firms making nice with each other, this is a capitalist society, after all. If one company achieves a record, that means others failed to do so.
"I know the person who handles books for Walmart.com," Gaw said. "She's not real happy about that Amazon record."
Record Store
With so many records floating around, some may claim they have ceased to have value. In some ways, that is true. Yankee Group analyst Rob Lancaster told the E-Commerce Times that the preponderance of milestones somewhat resembles the scene at the recent All-Star baseball game.
"Whenever anyone would come up to bat or take the field, the announcers would talk about some record they'd broken," he said. "But they were all these very minor, sometimes odd records, and after a while, they didn't mean anything."
Despite the volume of e-commerce records, however, Lancaster added that they can be important as tools that allow a company to show it is moving in a good direction. Positive records also provide affirmation for e-commerce in general.
"So many records show that people are opening their wallets and feeling more comfortable," he said. "That's always a good thing."