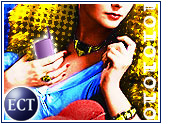 A US$75 box of truffles. A $550 designer handbag. A $10,000 diamond ring. While these may not sound like the kinds of products consumers would rush to buy over the Internet, e-tailers are claiming growing success in selling to the wealthy — or at least to those with expensive tastes.
"During the last big boom, from 1998 through about 2000, people bought more luxury items and got used to it," Ken Kellerhals, CEO of gourmet chocolatier Bissinger's, told the E-Commerce Times. "We've always thought that once a customer got used to our chocolate and saw how superior it was, it would be hard to go back. So we've been able to hold on to the customers we gained in the last boom. We really believe it's a push toward quality."
The Santa Boom
Like other e-tailers this year, Bissinger's is counting on hot holiday sales fueled by an improving economy. The forecast is bright: While most retail analysts predict overall holiday sales will increase by between 4 and 7 percent from last year's levels, they expect online sales to rise between 22 and 29 percent.
That is one reason why Bissinger's recently launched two new Web sites. Although the company's chocolate store has been online since 1999, last month it opened Bissinger's Marketplace, which sells gourmet foods. The firm also has begun offering corporate gift sales on its company Web site.
"We've tripled our presence on the Web this year and are very glad we did," Kellerhals said. "Sales have been growing at a pace of about 12 percent a year since we first launched online. And our Web site now represents 22 percent of total sales."
In the past, Bissinger's relied almost solely on catalog sales. The Web now helps the company reach younger customers, who often find the Bissinger's site via search engines, according to Kellerhals. Online sales also reap higher margins because the company does not have to mail expensive paper catalogs to e-shoppers.
Selling by the Numbers
In terms of demographics, online customers who buy luxury brands are primarily women ages 25 to 42. A high percentage of luxury e-tail customers also graduated from college and have income of more than $60,000 per year, Michael Dell'Arciprete, vice president of marketing for Diamond.com and Ashford.com, told the E-Commerce Times.
Sales at luxury e-tail sites have risen considerably in recent months, beating projected revenue in both September and October, Dell'Arciprete said, noting that he expects holiday sales to increase 30 to 40 percent year over year. Like Bissinger's, he considers his company's online sales to be somewhat recession-proof, since its upscale customer base is less sensitive to shifts in the economy.
Golden Rules
Dell'Arciprete cited three keys to selling luxury goods online. First and foremost, the e-tailer must sell authentic, branded items. "It seems basic, but there are a lot of people out there selling knock-offs," he said.
Also, at Ashford.com and Diamond.com, buyers can purchase the current year's styles rather than close-out merchandise and can take advantage of a 30-day, no-hassle money-back guarantee.
"If you spend $600 on a Gucci handbag, you'd like to know that your final decision on whether to keep it doesn't occur until after you've seen it and had it in your hands," Dell'Arciprete said.
Finally, the sites offer free shipping on orders of more than $150. With an average handbag price of more than $200, buyers do not want to be nickel-and-dimed with shipping charges, Dell'Arciprete noted. Plus, they can avoid sales tax by buying online, at least for now.
Information = Sales
In fact, Dell'Arciprete argued that buying a diamond online actually can be a safer and easier process than going to retail jewelry stores in person. Since all of his company's diamonds are GIA certified, the buying process is standardized, and consumers can easily compare prices between diamonds listed on various sites.
Scott Todaro, product marketing manager for commerce at ATG, agreed that large-ticket items can be more convenient to buy online. One of ATG's customers, Best Buy, sells plasma television sets online for up to $10,000, Todaro told the E-Commerce Times.
"Best Buy estimates that 20 percent of all sales they make are influenced through the online channel," he said. "Over 50 percent of the people shopping in their stores are shopping them online as well."
This synergy enables consumers to educate themselves about large-ticket items online before making purchase decisions, he added.
Getting Personal
Another ATG customer, luxury retailer Neiman Marcus, has invested in online technology to try to create the same personalized shopping experience over the Internet as in its stores.
Last Christmas, Todaro said, Neiman Marcus targeted male shoppers, who tend to wait until the last minute to purchase gifts and are therefore less price-sensitive.
"They tried to create a sense of urgency for male customers," he noted. "And they had a tremendous success ratio getting these customers to act."
The personalized online shopping experience includes push e-mail based on past purchases and browsing activity, loyalty programs and ongoing communications.
"For a high-end item, customers want the greatest level of service possible and the greatest amount of information possible," Todaro said. "It's our goal to make this happen online, just as it does in the stores and catalogs."
If luxury e-tailers can succeed in expanding their customer base while maintaining their existing core of recession-proof shoppers, they could secure their position as one of the linchpins of e-commerce.