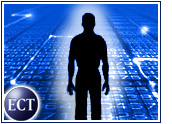 So you want to be the boss — the head technology honcho with the CIO title. You envision long executive lunches, weekly golf tournaments and a big, fat paycheck.
But when you shake off that daydream, you look around and see the cubicle of a low- to mid-level IT manager. How can a garden-variety IT professional break into the ranks of C-level management?
According to executives who worked their way up through the IT ranks, it takes a lot more than technology know-how to be chosen as CIO. The right education helps, and a solid career path cannot hurt. But to get the glory, what you really need is guts.
The Bottom Line
Indeed, to move up the IT career ladder, employees must do work that is profitable and be willing to take risks, Hunter Newby, chief strategy officer of Telx, told the E-Commerce Times. Newby performs the functions of a traditional CIO by managing information services at the privately held company.
"You must be productive and be part of the group," he said. "CIOs start low in the ranks most of the time. The ones who become successful are the ones who try to be visible."
Too often, he said, IT pros keep their heads down, do their jobs and avoid making waves. Newby calls folks who take on this demeanor "cellophane men," because they try to keep their jobs by becoming nearly invisible.
"You're more in jeopardy of being mediocre if you are cellophane man," Newby said. "But if you want to eventually make $200,000 or $400,000 a year, which is what a good CIO makes these days, you have to be willing to take on responsibilities and risks.
"Never be afraid to say 'yes' to taking on more responsibility," he added. "Nobody's going to hand someone a CIO job unless they have the guts to put themselves out there."
Wave of the Wand
In a similar vein, there are magic moments in every person's career. Those who become CIOs seize those moments to convert a risky situation into success, Ron Faccio, CIO of MPC Computers (formerly Micron PC), told the E-Commerce Times.
"You may be given the option of not seizing the opportunity," Faccio said. "But you must recognize that if you don't do it, you probably won't be given that opportunity again anytime soon. And if you seize the moment and fail, you're probably not going to have a job very long."
The very nature of IT management creates a certain amount of risk. After all, if an IT manager conceives of a new way to save money, drive sales or increase productivity, that idea typically is supported by technology that is bound to fail at some point. If that failure is highly noticeable, repercussions are likely.
To gain the most support for novel ideas — and to minimize risk if those plans do not work out — IT managers should work to gain visibility with executives across their company.
"Being innovative means solving problems," Newby said. "If you can solve problems in your department or in other departments and deliver results, put together a report and submit it to your company's CFO or CEO. You'll be seen as a thought leader and as someone who took it upon themselves to fill a void. It doesn't matter what your job title is today, you will be promoted."
On-the-Job or By-the-Book
Every IT career path also requires a certain level of formal education, whether at a technical school, four-year college, graduate school or certification program. IT managers who desire a CIO position at a nontechnical company would benefit from a master's degree in business administration, while those who want to work for a technology company might do better with a master's in computer science or engineering, Faccio said.
"Certifications are great at a more tactical level, but once you get past the managerial positions, those are not as important," he added.
However, the ability to learn on the job and apply that knowledge across the IT department carries much more weight than book learning, according to Christopher Faulkner, CEO of C I Host.
"Education does play a role at helping people be successful," Faulkner told the E-Commerce Times, though he noted that the majority of his company's IT staff do not have traditional four-year college degrees. "I've always thought of education as a door-opener. Once you've opened that door, it's more important to see how you've continued to gain knowledge throughout the years with hands-on experience.
"I would take someone who is young, energetic and has a great deal of initiative over someone with an Ivy League education any day," he added.
Getting Disciplined
Part of that on-the-job training means gaining insights into the diverse functions of the IT department, Faccio said. He suggests learning about key areas — including project management, database design and software design — via such assignments as director of systems development, director of project management or director of operations.
"Those particular disciplines have high visibility, and you will be recognized by management if you do well," Faccio said.
Also, would-be CIOs should not discount the power of the popular press. Newby suggests studying magazines, analyst reports and any other information that could broaden your industry knowledge.
"Studying these things helped me get where I am today," he said. "I asked questions and learned everything I could. And that knowledge got me noticed."