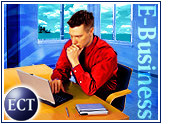 With many online behemoths still struggling to turn a profit in the e-commerce sector, smaller businesses may question whether the online sales model is truly a road to riches or just a pipedream.
After all, it costs big bucks to design, develop and maintain an e-commerce site that can draw the kind of customer volume needed to generate significant revenues and profits. That is why many small and medium businesses (SMBs) are choosing to abandon their homegrown, cobbled-together e-commerce systems, which often are vintage 1996 or 1997. Instead, they are buying prepackaged software to manage their e-tailing strategies from end to end, forgoing the high expense and risk associated with building solutions from scratch.
"You can't afford not to sell online," Wintergreen Research president Susan Eustis told the E-Commerce Times. "If companies don't do it, their competitors will throw them out of the market. And that goes for businesses of any size."
Ditching Vintage Equipment
One case in point of the buy-prepackaged trend is Anaconda Sports, which sells sports equipment to youth leagues, adult amateur athletes and schools. Since 1978, the company has sold its products via catalogs and call centers, and in 1996 it launched its first Web site.
The company recently outgrew its patched-together in-house solution and migrated to IBM's WebSphere Commerce.
"When we were getting quotes from other companies, they were estimating exorbitant consulting fees every time," Rob Meyer, director of Internet services at Anaconda Sports, told the E-Commerce Times. "We thought the price of IBM was going to be way out of our league. But in the long run, it became the most cost-effective choice."
Planning for Growth
Anaconda's catalog contains about 6,000 individual products. Similar companies with this sort of large product selection must be sure their vendor can handle this kind of diversity, Meyer warned.
"Other companies would have had to custom code the back end, which ran the cost up," he said.
He added that the real benefits of his company's new e-commerce system are efficiency, convenience and cost savings, not added revenue. Unlike the old ordering system, WebSphere Commerce sends online orders directly to the warehouse, eliminating the need for customer service representatives to touch every order.
What is more, call center representatives and salespeople can focus their efforts on large orders, while smaller purchases can be made online.
"This has definitely increased customer satisfaction," Meyer said.
A High-End Back End
In addition, the prepackaged IBM solution enables Anaconda to perform functions that were never possible with its prior system. Such tasks include inventory management, integration with the firm's accounting systems, order tracking and integration with VeriSign's fraud protection features.
"These features make us a competing Web site now," Meyer said. "We're a mom-and-pop company, but we're not a mom-and-pop Web site anymore."
Is Anaconda a rare example or one of many SMB success stories?
Steve Gatto, market manager for WebSphere Commerce, said there are many similar outcomes among small and mid-size businesses. However, he told the E-Commerce Times, online sales success requires intensive up-front planning and the right vendor.
"The majority of the customers in the market right now are in their third-generation rollout of Web initiatives," Gatto said. "And for the small business customers, it's particularly important that they buy specific tools to help them start a campaign, run a promotion, publish a coupon, et cetera, without any IT involvement."
Looking for a Bargain
When evaluating vendors, small businesses should make sure the e-commerce products that they are considering interact easily with end users, Gatto said. The software also should help leverage best processes and be easily extended and integrated with other software solutions over time. Finally, it should be easy to deploy initially and manage over time.
For her part, Eustis recommends that SMB customers evaluate the total cost of ownership, not just the initial software price. "And don't let the sales force do the price comparison for you," she added. "You want to do it on your own or have an independent consultant do it."
A trial installation is also a useful tool for evaluating e-commerce software. Choose a department within the company, buy the product and put it on a low-cost server in that department, Eustis suggested.
"Take a year, do the install right, and make sure it works," she said. "They you will see the advantages, and it will be much more possible to allocate a budget and determine the price points. You have to think in terms of value and not just in terms of cost.
"The good news is that IBM's products are priced to permit that," she added. "Some other companies are afraid of eroding their existing business, and their price points are a bit more scary to small businesses."