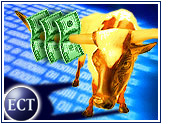 In most industries and economic climates, company anniversaries prompt little notice. If anything, employees gather momentarily in the conference room to pat each other on the back and knock back a celebratory beverage before heading back to work.
Not so in the world of e-commerce, where the 10-year mark has become a milestone to crow about. As BroadVision celebrates its first decade in the e-business arena, the company is breaking the silence it has maintained for the past several quarters, in which it flew under the radar as it reorganized and refocused its business.
Now that the firm is fiscally healthier and hungry for new customers, it is launching a campaign that illustrates just how far e-commerce has come — and how far the industry has yet to travel. Despite its renewed strength, BroadVision is facing a high hurdle. The problem isn't prodding customers to purchase BroadVision services. Rather, the challenge is convincing potential clients to invest in e-business strategies at all.
Fallout from Glory
Not surprisingly, the meteoric fall of once-high-flying entrepreneurs and their businesses has created a culture of fear regarding some e-commerce initiatives.
"Over the last few years, the market was not interested in what people were doing with e-commerce," BroadVision founder, CEO and president Pehong Chen told the E-Commerce Times. "IT spending was horrible, and the whole world became somewhat ignorant of the great things that were being accomplished on the Web."
Indeed, after watching many e-businesses' spectacular falls from glory, the average IT project manager may have shied away from suggesting that his or her company embark on its own Web strategy. Such managers were afraid of losing their jobs if the projects failed, Chen said.
What is more, potential return on investment (ROI) for e-commerce projects was nothing but speculation. Vendors claimed they could drive revenue, reduce costs or improve customer relationships via the Web, but they had no proof. This made closing new sales close to impossible in the past few years.
A High-Flier
To beat back market skepticism, BroadVision has created a sheaf of case studies proving positive ROI gained by its loyal clients.
"This has made selling become easier," Chen said. "Now that the economy is beginning to loosen up and people are willing to listen, we can present them with very specific pieces of data to prove the value of e-commerce projects."
One such example is BroadVision client Aviall, the world's largest independent distributor of new aviation parts. The company garners annual revenue of about US$1 billion, and its Web site features 300,000 items supplied by 215 manufacturers.
With help from BroadVision, Aviall grew its online sales from $23.2 million to about $62 million in two years. Plus, the company saves $6 each time a customer chooses to use the Aviall Web site rather than placing an order via the call center, Daryl Hackbarth, manager of e-commerce and marketing at Aviall, told the E-Commerce Times. How did Aviall succeed in creating high-quality results using e-commerce, when others did not?
"My personal opinion is that those folks who failed may not have been as committed to [e-commerce] as they thought they were," Hackbarth said. "There was a lot of money spent in the glory days of the Web, and it was spent simply because everyone thought they had to have an e-commerce solution. As soon as things got tough, these brave, bold initiatives got whittled away."
An Internet Renaissance?
In May, BroadVision released the latest upgrade to its suite of software, which integrates portal, content and e-commerce capabilities into a single application. The company hopes that new wireless features, channel management and other capabilities in version 7.1 will prompt existing users to upgrade.
Above all else, the company is betting that the e-business cycle has at last reached the "buy" point. BroadVision's own e-commerce pipeline has grown about 10 percent in each of the past few quarters — something Chen said did not happen in the previous two years.
The company also is counting on a new attitude toward e-commerce in terms of its value proposition. BroadVision is encouraging its users to leverage e-commerce as a new channel strategy, rather than simply viewing it as a tool for boosting revenue or holding down costs.
"It's never going to be the same as it was in 1999 or 2000," Chen said. "But now there is more normalcy in people being ready to invest. Lately, IT spending has not been about improving the business as much as it has been about cutting costs. It's all been around operational efficiency, which has been the right thing to do.
"After all, during the boom, people simply bought too much stuff. Some of our potential customers are still running an e-commerce footprint that is vintage 1997 — on technologies that are no longer supported by the vendor," he said. "But now that's all been flushed out, and it's time for businesses to look at what is missing from their e-business strategy."
2004: The Comeback Year?
With e-commerce infrastructure at many businesses quickly becoming obsolete, Chen predicts 2004 will be an interesting — and busy — year. Some analysts heartily agree.
"Is this a comeback? Absolutely it is," Kent Allen, research director at Aberdeen Group, told the E-Commerce Times. "And right now, the Web as a part of a multichannel strategy is really finding its legs.
"In many ways, what we are seeing is the Web being flipped from a product-centric view to a go-to-market strategy," Allen added. "Companies are really rethinking the entire value chain. So e-commerce is coming back and growing in importance, but it's only important as part of a bigger picture."
As a pure-play vendor, he said, BroadVision is well positioned to gain new customers as the market starts a new growth cycle.
"They got caught up in the winds of change that ripped through the landscape over the last couple of years," Allen noted. "But now they've done a good job helping clients see how to get the most value out of their online strategies. They've done a good job [of] showing how they play into the value chain."
P-Commerce
Unlike the last upturn in e-commerce spending, the next wave of upgrades will be guided by pragmatism, Meta Group vice president Gene Alvarez told the E-Commerce Times.
"The market is not headed toward the type of spending that we saw at the dot-com peak," Alvarez said. "Will we see a tsunami of folks launching new sites? No. I like to think of it more as spring home-improvement season."
Spending will be focused on upgrading and improving existing sites, he said, as part of "pragmatic e-commerce."
If analysts' predictions are correct, those upgrades will be needed. Forrester has forecast that 63 million U.S. households will be shopping online by 2008, and that e-commerce will have a 19 percent compound annual growth rate over the next five years. The research firm also believes online retail sales will approach $230 billion and will account for 10 percent of total U.S. retail sales in 2008.
That is definitely a recipe for recovery. The only question is exactly when the upturn will quicken.