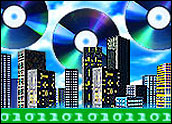 The dot-com bubble burst may have dampened the market for pure-play e-commerce ventures, but it has not slowed the number of companies seeking to automate their core business processes over the Internet.
Increasingly, Fortune 500 enterprises are turning to e-business software to enable real-time transactions and data exchange both internally and with trading partners. This hot sector is crowded with numerous software firms, each vying to peddle integrated suites for supply chain management, customer relationship management (CRM), e-procurement, fulfillment and logistics.
How can an enterprise IT manager decide which one to buy? The strongest contenders take a holistic approach, according to Yankee Group senior analyst Jon Derome. In this piece, the E-Commerce Times takes a closer look at three companies of different sizes and might that have chosen to follow that path: IBM, Siebel and BroadVision.
Must Be Well-Rounded
As Derome told the E-Commerce Times, companies that sell only Web-based storefronts, catalogs and shopping cart applications are unlikely to succeed in the future.
"The front-end content management component is important, but you've got to address the back-end piece because integration of systems is where the market is headed," Derome said. He emphasized the need for e-business applications that can communicate with ERP (enterprise resource planning) and back-end billing systems.
"Vendors that focus on content and Net selling as their primary competencies face tough times," he added.
Front-End Follies
One such vendor is BroadVision. An early winner out of the e-commerce gate with cutting-edge content management and guided-selling technologies, Broadvision has struggled lately to tie its front-end software to back-end infrastructure, Derome said.
However, the company is aggressively striving to stem the tide with BroadVision One-to-One Enterprise, a set of tools built into its three e-business applications — One-to-One Portal, One-to-One Content and One-to-One Commerce — that creates a platform for smoother interoperability between the three systems. While it is still sold separately, BroadVision executives stressed that One-to-One Enterprise is typically sold as a foundation component of the other applications. On a per-CPU basis, pricing starts at US$60,000 for the portal product, $40,000 for content management and $60,000 for e-commerce.
Based on the J2EE (Java 2 Enterprise Edition) architectures and supporting XML, One-to-One Enterprise improves on BroadVision's back-end systems integration and scales to accommodate changes in transaction volume, according to the company. The suite's graphical toolset allows companies to more quickly customize BroadVision applications and generate online sites that feature higher levels of personalization. In addition, the suite sports security features, session management and wireless support.
Not Quite Seamless
Yet, despite its beefed-up integration functionality, One-to-One Enterprise is not truly seamless. The suite still requires third-party tie-ins to back-end systems vendors such as SAP and integration server companies such as webMethods to deliver connectivity, Derome noted.
"You shouldn't be bolting this stuff on, but rather baking it into your solutions," he explained, citing the advantage that application server players like IBM, BEA Systems and Microsoft have in their development-side approach to e-business software.
All for One, One for All
In fact, for IBM, one-stop shopping is the name of the game. The company's sprawling e-business suite is comprised of "middleware" products, including WebSphere Portal and Commerce servers, that are anchored by the flagship WebSphere application server and DB2 Universal Database. WebSphere Commerce and Portal also sport ties to back-end systems through IBM's integration products — WebSphere MQ and WebSphere Business Integration.
The WebSphere suite comes with several out-of-the-box, common components that operate across each element in the product family and enable companies to piece together their e-business functionality in a modular fashion. Likewise, prepackaged business logic and a set of configurable business processes support credible back-end integration, according to Debbie Moynihan, program director of WebSphere Commerce product marketing and management at IBM.
"We are minimizing the risk with ready-made commerce components, so our customers don't have to maintain code over time but can depend on IBM to do it," Moynihan told the E-Commerce Times.
Single-Vendor Advantage
Moynihan contends that IBM's standards-based J2EE architecture, tight ties to its DB2 database and integration technologies make the case for the single-vendor approach to e-business. "One architecture gives you more reliability and scalability for your commerce implementation," she said. The drawback, according to industry analysts like Derome, lies in the customer's inability to easily incorporate best-of-breed technologies into the mix.
Among its features, WebSphere Commerce 5.4 sports personalized storefronts for business-to-business (B2B) and business-to-consumer (B2C) e-commerce; marketing campaigns; advanced analytics; one-to-one dynamic content generation; promotions; and inventory and order management.
WebSphere Commerce Professional Edition (for B2C sites) is priced starting at $80,000 per processor. WebSphere Commerce Business Edition, aimed at developing B2B sites, is priced starting at $125,000 per processor.
Laser Approach
Meanwhile, CRM giant Siebel Systems has gone vertical with its e-business suite. The company's Siebel eBusiness Applications suite is actually a compendium of more than 20 applications tailored for specific industries, such as automotive, financial services, retail and telecommunications.
The guiding premise, according to Siebel executive Kevin Nix, is that it is better to buy than to build applications.
"It's more cost-effective over time to buy," Nix, global vice president of industry applications, told the E-Commerce Times. "We encapsulate the best practices for a certain industry, and enable customers to get the applications up faster and minimize risk."
For example, one such application, Siebel Communications, offers a simplified user interface and order management capabilities for wireline and wireless provider so that call center operators can generate more accurate orders, Nix said.
Back-End Splash
On the back-end integration side, Siebel made a splash last year when it launched its Universal Application Integration (UAN) initiative, partnering with industry-leading integration vendors and systems integrators to develop standards-based business processes that connect Siebel apps to other systems. Siebel's e-business apps are targeted toward both the enterprise and the mid-market, Nix said. Pricing by product, set according to a licensing model, is not disclosed.
The Yankee Group's Derome said applications stalwarts such as Siebel, as well as SAP, PeopleSoft and Oracle, will capture an increasing share of the e-business suite market in coming months. But all hope is not lost for smaller vendors. Niche companies that target vertical industries also may fare well, he said.