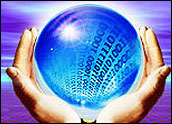 In the last two years, BroadVision's revenues have collapsed, and its market cap has shrunk. Even after a year of aggressive cost cutting, the company's third-quarter results showed continuing losses. That red ink has spurred speculation that BroadVision could run out of money before it executes its recovery plan, which includes rebranding for the enterprise portal market and verticalizing its product line.
Is BroadVision on its last legs, or has its repositioning strategy put it on the road to recovery?
Die Another Day
Rumors of the company's death are premature, insists Sanjay Gupta, BroadVision's new senior vice president of marketing and alliances. "There's no real issue in terms of our viability," he told the E-Commerce Times. "We ended the third quarter with more than $130 million in cash, and actually burned through only $2.3 million during the quarter." In fact, Gupta said he expects BroadVision will return to profitability in the fourth quarter.
BroadVision's repositioning strategy and the release of version 7.0 of its suite of portal applications are already bearing fruit, according to Gupta. He pointed to an uptick in license revenue during the third quarter, noting that the company has seen an increase in stock value since quarterly results were released.
In another positive sign, third-quarter license income included more revenue from new customers than from upselling to existing ones.
Key Focus
"BroadVision's key focus has been on rebranding for the portal market," Forrester senior analyst Nicholas Wilkoff told the E-Commerce Times. The repositioning is a response to the precipitous drop in spending on e-commerce. "The portal space is going to be a continuing challenge for them, but it is an area where we see companies making technology investments," Wilkoff said.
BroadVision's focus on portals is not simply an exercise in opportunistic rebranding, but reflects a natural migration. "Content management and portals are increasingly being merged into one platform, and that platform can be made to enhance investments in transaction systems and legacy systems," Brian McDonough, research manager of enterprise portal solutions at IDC, told the E-Commerce Times.
"BroadVision's history is in offering content management and personalization solutions," McDonough said. "They're in as good position as any portal vendor to take advantage of this trend."
Enterprise Portal Market
The enterprise portal market is relatively new, fiercely competitive and very fragmented. Although expansion has slowed dramatically this year, it is still one of the fastest-growing software markets.
The top three vendors are Plumtree, IBM and Computer Associates, according to IDC. BroadVision had the twelfth largest market share in 2001. McDonough said he expects the company to increase its market share in 2002 and 2003 because of market consolidation, product migration and BroadVision's success with its vertical offerings.
"Success is going to be dependent on managing customer satisfaction, innovating vertical markets and innovating products to sell into their existing customer base," Wilkoff noted.
The Next 100 Days
BroadVision's Gupta maintains that the company's future is bright. "We've taken a very aggressive position to get back to a cash flow breakeven position. We're well positioned for growth when the market turns around," he said.
However, Wilkoff said he thinks BroadVision will have more success in reaping revenue from its existing customer base than in finding new buyers for its portal products.
"BroadVision has definitely been hit harder than probably anyone in the markets we cover in e-commerce," Wilkoff said. "I think the one thing that has allowed them to sustain themselves is their large customer base. Their ability to sell into their installed base is the one thing that will allow them to drive forward."
On Right Path
Despite challenges, according to IDC's McDonough, BroadVision is making progress.
"The BroadVision name is still associated with e-commerce software," he said. "They will have to reinvent themselves as a provider of portal products. The first customers for their portal products will be their installed base. Reaching new customers in the portal market will be a harder sell.
"The perception of the company continues to be negative, and that will continue to impact future sales and have a compounding effect on future business in a negative way," McDonough added. However, he noted, "They're on the right path, and [BroadVision is] possibly an acquisition candidate."